Inspired by a French classic, this Rhubarb and Creamy Custard Millefeuille slice is made with crisp pastry, custard, and syrupy rhubarb for a British twist. If you like sweet breakfast, try nutella hand pies.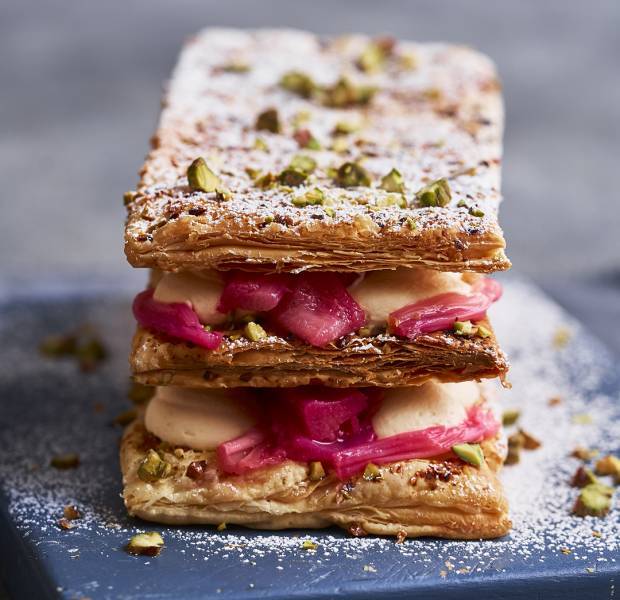 ---
Ingredients:
375g pack Asda Ready Rolled Light Puff Pastry
50g chopped pistachios
84g sachet Asda Instant Custard Mix
100ml whipping cream
200g Grower's Selection Rhubarb, trimmed and cut into 4cm lengths
80g caster sugar
Icing sugar, to dust
---
Instruction:
Preheat the oven to 200C/180C Fan/Gas 6. Line a baking tray with baking paper.
Unroll the puff pastry, then slice across it into equal thirds.
Arrange on the tray, brush with a little water and sprinkle with the chopped pistachios, reserving some to garnish. Top with more baking paper then another baking tray, to weigh it down. Bake for 23-25 mins until golden. Allow to cool.
Make up the custard mix with 300ml boiling water. Cool for 10 mins, then chill fully in the fridge. Whisk the cream into soft peaks and fold through the custard. Cover and chill.
Simmer the rhubarb, caster sugar and 100ml water in a pan for 6-8 mins until tender but not broken down. Cool, then drain with a slotted spoon.
Put the chilled custard cream into a piping bag with a 1cm round nozzle. Pipe over 2 of the pastry pieces, top both with rhubarb and stack. Top with the third pastry piece.
Dust with icing sugar, sprinkle over the reserved pistachios and serve the Millefeuille.
---
website: www.asdagoodliving.co.uk