When you want a delicious no-bake dessert, this White Chocolate & Blueberry Cheesecake Tart will do the trick! It's made with a layer of Blueberry Cheesecake Layer then topped with decadent layer of White Chocolate Layer made from cashews and coconut cream. See also summery mango tart recipe.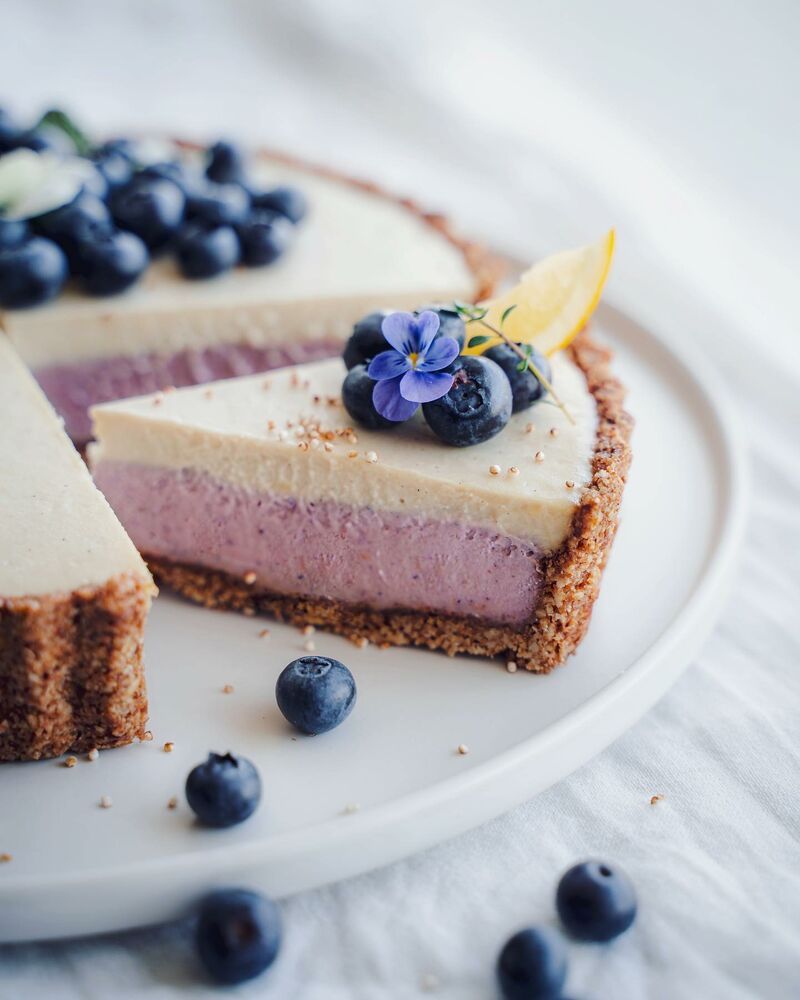 ---
Ingredients: 
For the crust:
90

 grams gluten free rolled oats

90

 grams raw almonds

6

 tablespoons coconut sugar

1/ 4 

teaspoon pink salt

4

 tablespoons refined coconut oil, melted
Blueberry cheesecake layer:
150

 grams raw cashews, soaked 3-5 hours and rinsed

1

 cup fresh blueberries

5

 tablespoons raw cacao butter, melted

4

 tablespoons maple syrup

4

 tablespoons coconut cream

4

 tablespoons lemon juice

1

 teaspoon lemon zest
Pinch of pink salt
White chocolate layer:
80

 grams raw cashews, soaked 3-5 hours and rinsed

1/ 3 

cup coconut cream

3

 tablespoons raw cacao butter, melted

1

 teaspoon vanilla bean paste
---
Instruction:
Preheat oven to 170⁰C. Place every dry ingredient for the crust in a food processor. Process well until it reaches the consistency of flour.
Add melted coconut oil into the food processor and process until it becomes like wet sand.
Press the mixture against the sides and the bottom of the tart tin. Bake it for about 15 minutes or until baked through. After it has cooled down, put it in the freezer for 30 minutes to an hour.
Put every ingredient for the blueberry layer in a high-speed blender and blend well. Add sweetener or lemon juice if you wish. Layer it over the crust and freeze it until set.
Repeat the same process for the white chocolate layer. Freeze it over night.
Take out from the tin and let it thaw at room temperature or keep in the fridge until it becomes soft enough to cut. Garnish with blueberries, lemon wedges, and herbs. Cut with a warm knife.
Enjoy and rate the recipe!
website: thefeedfeed.com