Chocolate, Caramel and Tahini Tart, made from sesame seeds, adds a hint of nuttiness to this rich and creamy tart dessert. Try also summery mango tart or blackberry filo tart.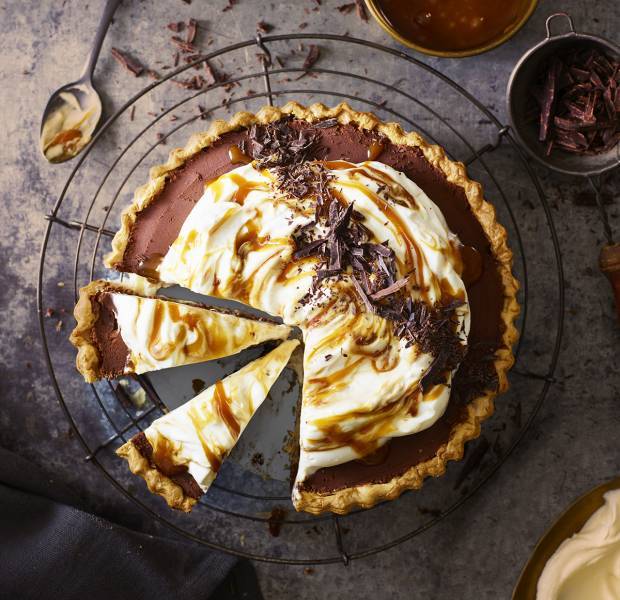 ---
Ingredients:
280g pack Free From Ready Rolled Puff Pastry, at room temperature
200g dark chocolate, chopped
300ml whipping cream
2tbsp icing sugar
35ml whole milk
50g light brown sugar
20g unsalted butter
1tbsp tahini
150ml Asda 50% Less Fat Crème Fraîche
---
Instruction:
Preheat the oven to 200C/180C Fan/Gas 6.
Unroll the pastry and use to line a 20cm round loose-bottomed tart tin; trim off any excess. Prick the base with a fork, then chill in the fridge for 15 mins.
Top with baking paper and fill with baking beans or uncooked rice.
Bake for 20 mins, remove the beans and paper, then bake for 5 mins or until golden brown and cooked through. Allow to cool fully.
Melt 175g of the chocolate in a bowl over a pan of boiling water. When smooth, take the bowl off the pan and allow to cool for 5 mins.
Whip the cream with the icing sugar until just holding its shape. Stir 1tbsp into the chocolate to loosen, then fold in the rest to combine.
Spoon into the pastry case and smooth the top. Chill for 1 hour or until set.
Meanwhile, put the milk, brown sugar and butter in a pan. Gently heat, stirring constantly, until the sugar has dissolved – don't bring to the boil. Remove from the heat and whisk in the tahini.
When the chocolate tart is chilled, spoon the crème fraîche on the tart and pour over half of the caramel tahini sauce. Swirl with a spoon and sprinkle with the remaining chocolate. Serve with the remaining sauce on the side.
---
website: www.asdagoodliving.co.uk