Flavoured with coffee, rose and pistachio, these Fresh Cream Jewelled Eclairs treats taste as good as they look.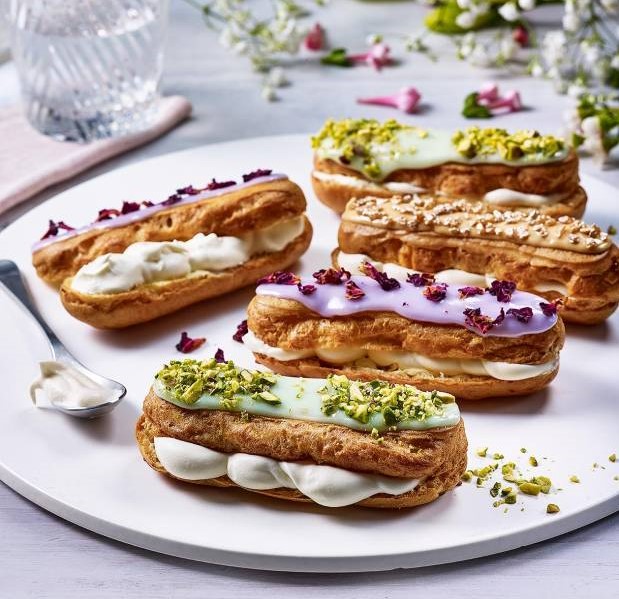 ---
Ingredients:
50g unsalted butter, cut into cubes
75g Asda Strong White Bread Flour, sifted
2 large eggs, beaten
150g fondant icing sugar
1tbsp Extra Special Brazilian Coffee Extract
Dr. Oetker Extra Strong Food Colouring Gel in Violet and Green
20g Asda Gold Crunch sprinkles
50g pistachios, chopped
2g rose petals
200ml whipping cream
---
Instruction:
Preheat the oven to 200C/180C Fan/Gas 6. Line 2 baking trays with baking paper.
In a pan, bring the butter and 150ml cold water to the boil. Remove from the heat.
Add the flour; beat with a wooden spoon until the mixture forms a dough ball that leaves the sides of the pan clean. Cool for 15 mins.
Gradually beat in the eggs to get a stiff dough. Put in a piping bag with a 1cm plain nozzle. Pipe 14 eclairs, each 8cm long, onto the trays.
Bake for 25 mins without opening the oven so the eclairs puff up. Cut a small slit in the side of each to release steam. Bake for 4 mins more. Cool on a rack.
To decorate, put 50g of the icing sugar into a bowl and stir in the coffee extract until it forms a thick paste. Divide the rest of the icing sugar between 2 bowls; add a drop of violet gel to one and green to the other. Add 1-2tsp cold water to each bowl and stir into a paste.
Spread the icing on top of the eclairs; allow to set for5 mins. Sprinkle the coffee icing with gold crunch, the green with pistachios and the violet with rose petals.
Whip the cream and put in a piping bag with a round nozzle. Split the eclairs down one side and pipe in the cream. Serve within 1 hr.
---
website: www.asdagoodliving.co.uk