Icebox Cookie Cheesecake is very tempting treat and simple to make. Cookie lovers will come back for seconds. You should also try this Italian cannoli cheesecake recipe.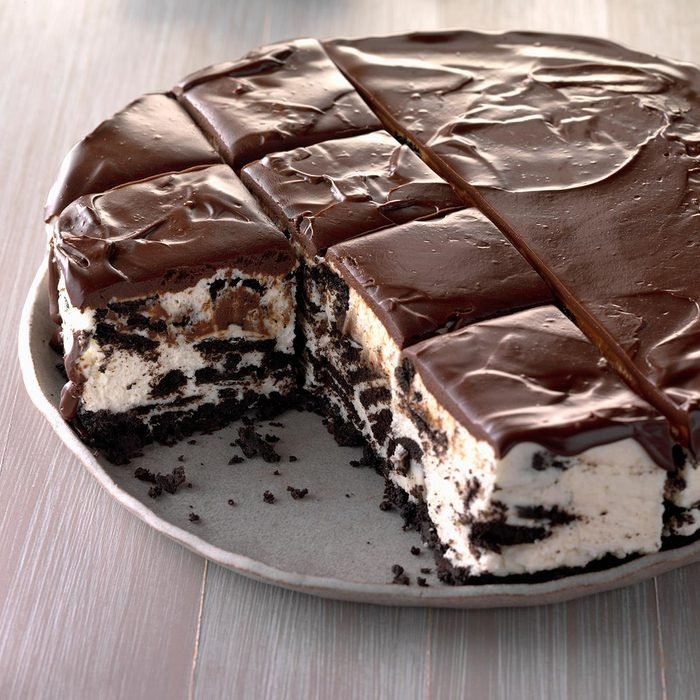 ---
Ingredients: 
1-1/4 cups chocolate wafer crumbs
4 tablespoons butter, melted
2 cups heavy whipping cream, divided
3 packages (8 ounces each) cream cheese, softened
1 cup sugar
1 package (14.3 ounces) Oreo cookies, quartered
4 ounces semisweet chocolate, chopped
1/2 teaspoon vanilla extract
Optional: Whipped cream and chopped Oreo cookies
---
Instruction:
Combine crumbs and butter; press into bottom of a 9- or 10-in. springform pan. Freeze. Whip 1-1/2 cups whipping cream until stiff peaks form; refrigerate.
In a large bowl, beat cream cheese until smooth. Gradually add sugar; blend thoroughly. Fold cut cookies into filling along with chilled whipped cream. Spread filling evenly into crust, smoothing top and spreading to edges. Cover and refrigerate 4 hours or overnight. Freeze 1 hour before serving.
Meanwhile, melt chocolate in a saucepan over low heat, stirring constantly. Remove from heat; cool slightly. Whisk in vanilla and remaining 1/2 cup whipping cream. Loosen cheesecake from pan by running knife around edge; remove from pan.
Spread chocolate glaze over cookie cheesecake. If desired, top with whipped cream and additional Oreo cookies to serve.
---
website: www.tasteofhome.com