Vegan Vanilla and Berry Layer Cake is loaded with sugar, vegan butter, flour, maple syrup and lots of other good stuff 😉 But it's also not meant for every day. It's a treat, so enjoy it in moderation, but don't be afraid of enjoying treats every now and again either. See more vegan recipes here.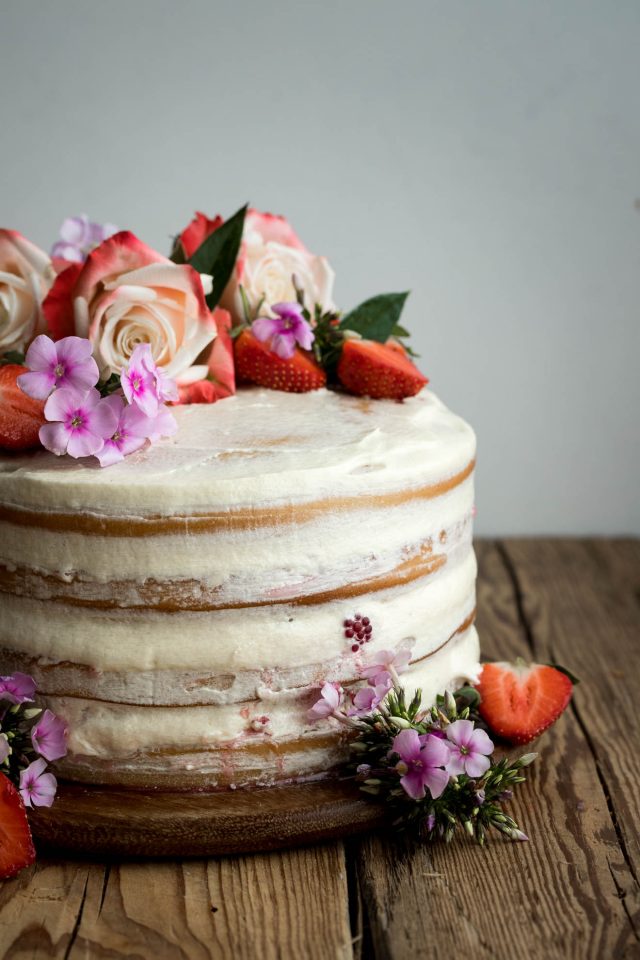 ---
Ingredients: 
Cake Batter:
6

 

cups (800g)

 

Plain All Purpose Flour

3

 

tsp

 

Baking Powder

2

 

cups (440g)

 

Caster Sugar

4

 

tsp

 

Vanilla Extract

6

 

tbsp

 

Maple Syrup

3.5

 

cups (800ml)

 

Almond milk

1

 

cup (235ml)

 

Sunflower Oil
Frosting and Filling:
1

 

cup (200g)

 

Vegan Butter

1.5

 

cups (220g)

 

Powdered Sugar

 

(icing sugar)

1

 

cup

 

Fresh Raspberries
---
Instruction:
Preheat the oven to 180°C. Grease and line four 9 inch round cake tins.

In an electric mixer, mix together the caster sugar and sunflower oil until well combined. Add the maple syrup, vanilla extract and almond and mix well.
Sift together the flour and baking powder, then add to the wet ingredients in 3 additions, mixing well between additions. Once all the flour is added, mix the batter until completely smooth.
Separate evenly between the four cake tins and bake for 40 minutes, or until a skewer inserted into the cake comes out clean. Allow the cakes to cool in the cake tins for 20 minutes, then remove them and let them cool completely on a cooling rack.
To make the filling and frosting, beat the vegan butter on a high speed in an electric mixer for a couple of minutes. Then add the powdered sugar in three separate additions, mixing gently to avoid a sugar cloud. Once the sugar is all combined, beat on a high speed for 3-4 minutes until pale and fluffy.
Separate 1/3 of the frosting into a separate bowl for the outside, then add the fresh raspberries to the remaining 2/3, stirring them and squashing slightly with a fork so they release some juice.
Layer the cakes with the raspberry filled frosting, then use the remaining 1/3 to cover the top and sides. Top the cake with some more fresh fruit if desired.
If you choose to add flowers to the top of the cake for decoration, ensure they are food safe flowers.
---
website: laurencariscooks.com