Italian Cannoli Cheesecake is a combination of two true Italian classics. You get to enjoy two delicious Italian desserts and never need to choose which to have – you can have them both! If you're a fan of Italian desserts, we have also Italian sfogliatelle pastry recipe for you and many others!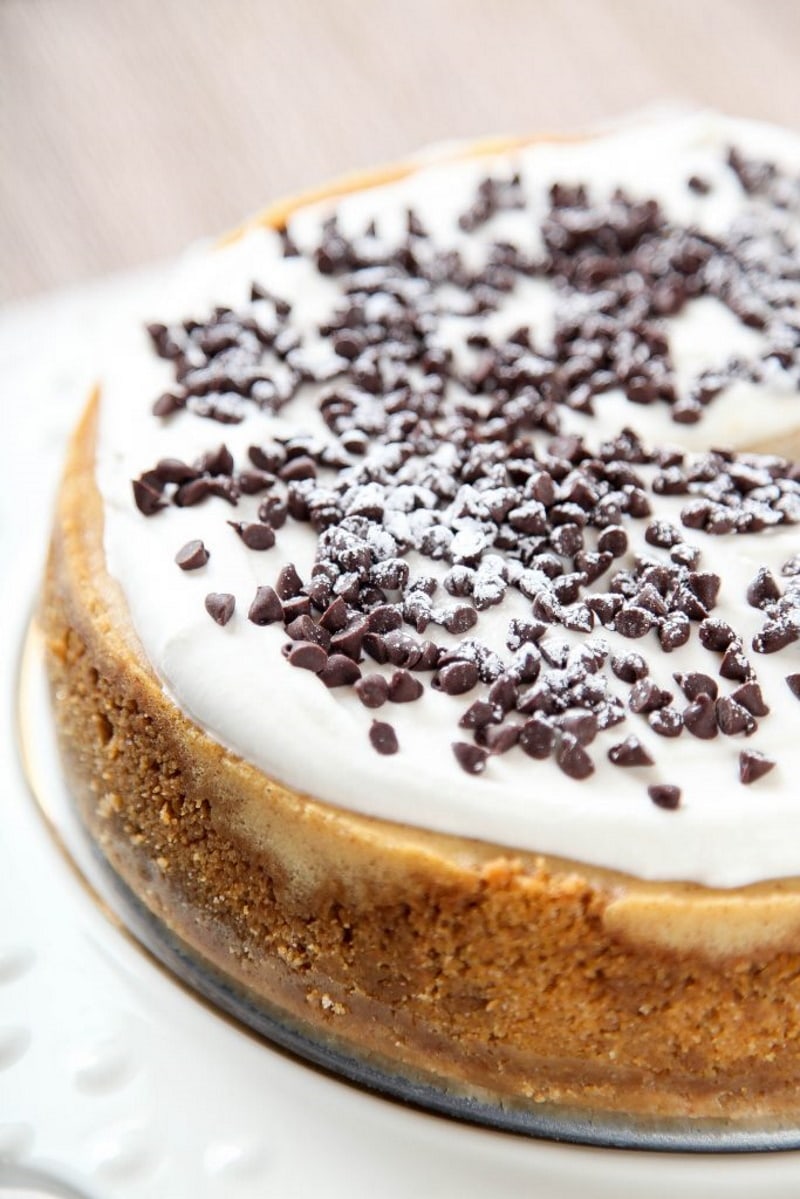 ---
Ingredients:
6

 

large

 

cannoli shells

 

cooked

3

 

tbsp

 

butter

 

melted

2

 

tbsp

 

white sugar

4

 

cups

 

ricotta cheese

 

whole milk or, if possible, sheeps milk

1½

 

cups

 

white sugar

¼

 

cup

 

all-purpose flour

½

 

cup

 

heavy cream

1

 

tbsp

 

vanilla extract

1

 

tsp

 

orange zest

 

freshly grated

5

 

eggs

 

room temperature

½

 

cup

 

mini chocolate chips

¼

 

cup

 

almonds

 

chopped, sliced
---
Instruction:
Heat your oven to 350 degrees F and prepare a nine-inch springform, cheesecake pan with a piece of parchment in the bottom.
Place the cannoli shells in a food processor and pulse until they are a fine powder. Add the melted butter and 2 Tbsp white sugar to the food processor and pulse again until a medium crumble starts to form.
Pour the crumble into the prepared pan and press down on the crust to pack it into the pan.
Bake the crust in the preheated oven for 10 minutes. Remove from the oven and set aside to cool.
In a large bowl, beat the ricotta together with the 1 ½ cups white sugar and the all-purpose flour.
Add in the heavy cream, vanilla and orange zest and mix well.
Add the eggs to the mix, incorporating them one at a time and mixing briefly after each addition so as not to whip them too much (this can cause the cheesecake to crack).
Pour the filling over the pre-baked crust and then bake in the oven in a water bath for one hour and 15 minutes.
Remove from the oven and cool in the refrigerator for at least 4 hours to set the cake.
Before serving, top with the mini chocolate chips and almonds. Remove from the pan, slice and enjoy!
---
website: www.nonnabox.com