Blueberry Puff Pastry Tarts with Lemon Cream is a light and flavorful dessert that's easily made ahead and assembled just before serving. Beautiful combination of flavors and colors and so easy to make when using store-bought frozen puff pastry dough. If you're a fan of blueberries, we have blueberry hand pies recipe for you, or blueberry cheesecake.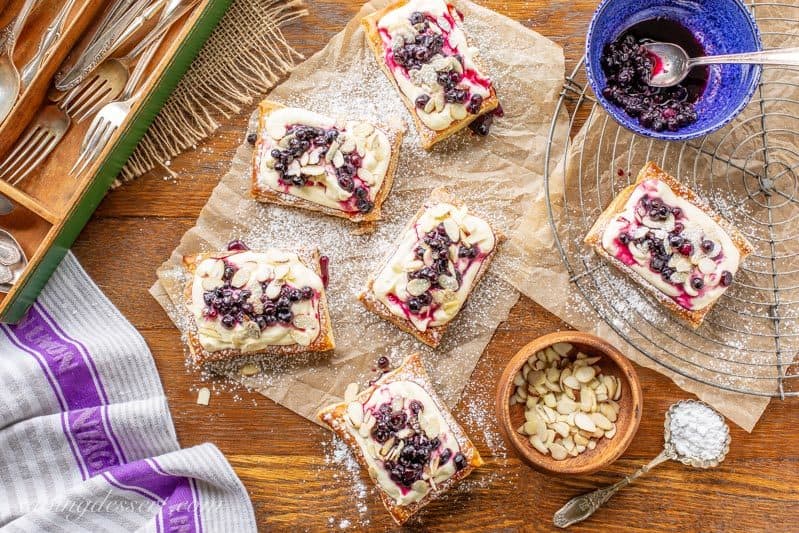 ---
Ingredients:
Puff pastry 

(1/2 of a 17.3 ounce box)

1

 

egg,

 

lighten beaten with 1 teaspoon milk
For the blueberry sauce:
1

 

cup

 wild frozen blueberries, 

mostly thawed or fresh

2

 

tablespoons

 

honey
For the lemon cream:
2

 

ounces

 

mascarpone cheese or cream cheese,

 

room temperature

2

 

tablespoons

 

powdered sugar

½

 

cup

 

whipping cream

¼

 

cup

 

store-bought or homemade lemon curd
For garnish:
¼

 

cup

 

sliced almonds,

 

lightly toasted

powdered sugar for dusting
---



Instruction:
Preheat oven to 400°F.
Thaw 1 sheet of frozen puff pastry dough. Cut into 6 rectangles, approximately 4 ¼-by-3 inches each.
Place the rectangles on a parchment lined baking sheet. Score each pastry with a sharp knife, about ½-inch from the outer edge, all the way around making a rectangle inside the rectangle. Do not cut all the way through. Pierce the center of each pastry with a fork. Whisk together the egg and milk. Brush the edges of each pastry shell with the egg wash.
Bake the pastry shells for 15-20 minutes or until they puff up and are golden brown. Remove to a rack to cool completely. If needed, cut around the inner rectangle with a small paring knife and press the center down lightly to create an indentation. Once cooled, store lightly covered at room temperature until ready to assemble.
In a small bowl combine the blueberries and honey. Set aside or refrigerate until ready to serve.
In a small bowl combine the mascarpone cheese and powdered sugar. Beat with an electric mixer until smooth. Turn the mixer on low and slowly add the whipping cream until it's incorporated and starting to thicken. Increase the speed to medium, then high and beat until medium soft peaks form. It won't take long. Gently fold in the lemon curd with a spatula until blended. If making ahead, cover and refrigerate until ready to assemble.
To serve, divide the lemon cream mixture on top of the pastry shells. Top each with the blueberry mixture and toasted sliced almonds. Dust with powdered sugar and serve immediately.
---