The best Blueberry Cheesecake is a true summer refreshment. With whipped cream on top, and some blueberries, it will look fantastic and it's super easy to make! Check more blueberry recipes here! and see why are they so healthy.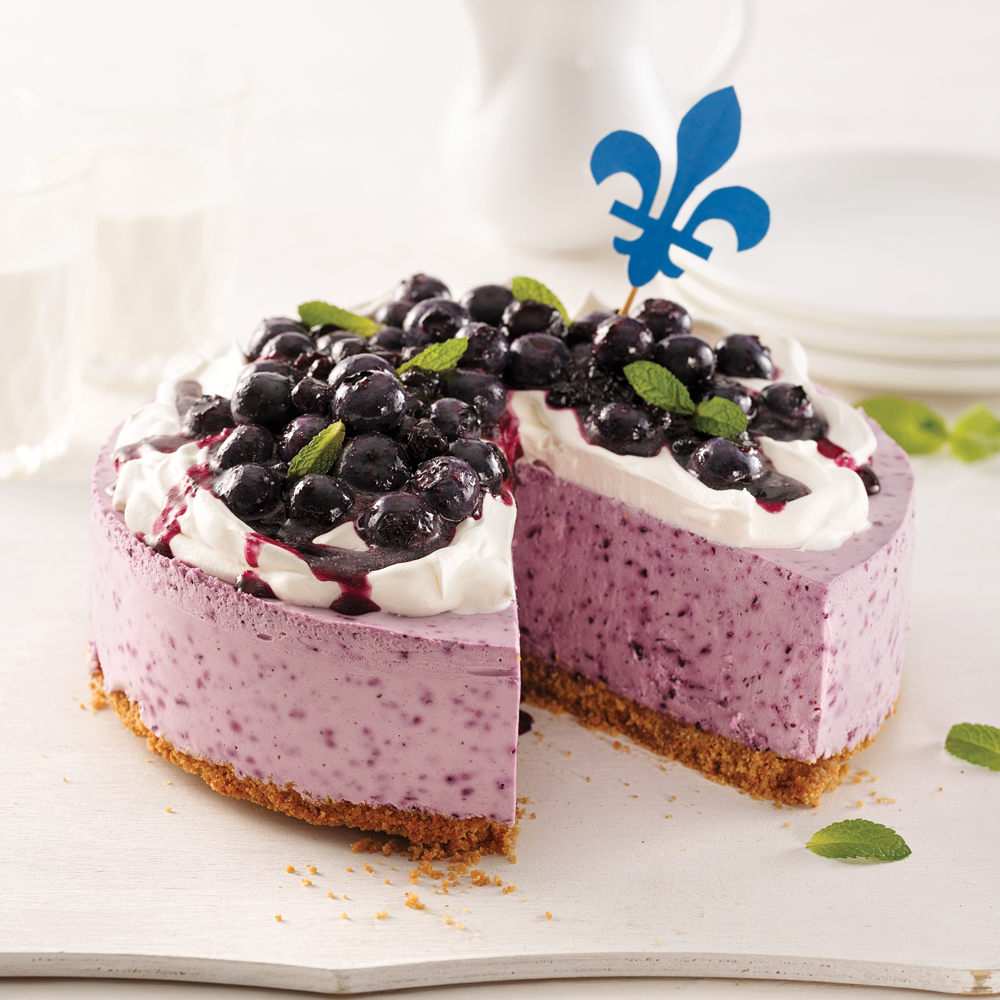 ---
Ingredients:
For the crust:
180 ml (3/4 cup) graham cracker breadcrumbs
45 ml (3 tbsp) brown sugar
30 ml (2 tbsp) melted butter
For the cheesecake:
1 pouch (7 g) unflavoured gelatine
125 ml (1/2 cup) milk
3 packages (250 g each) cream cheese, softened
1 small lemon, zest and juice
250 ml (1 cup) blueberries
250 ml (1 cup) sugar
180 ml (3/4 cup) whipped cream
To garnish:
375 ml (1 1/2 cups) whipped cream
250 ml (1 cup) blueberries
180 ml (3/4  cup) blueberry jam
A few leaves of mint
---
Instruction:
Preheat the oven to 180 °C (350 °F).
In a bowl, mix together the ingredients for the crust.
Line a un 20 cm (8 in) springform pan with parchment paper. Evenly spread out the crust mix in the pan, pressing it into the bottom of the pan. Bake for 8 to 10 minutes. Remove the springform pan from the oven and let it cool completely on the counter.
In a microwave safe bowl, mix the gelatine with the milk. Let bloom for 5 minutes.
In the blender, add the cream cheese, lemon zest and juice, blueberries and sugar. Mix until smooth throughout.
Heat the gelatine in the microwave for 20 to 30 seconds.
Add 180 ml (3/4 cup) whipped cream in the blender, then add the hot gelatine, mixing.
Pour the blueberry preparation into the springform pan and evenly spread out. Refrigerate for 3 to 4 hours.
Remove the cake from the pan and garnish with the rest of the whipped cream.
In a bowl, mix the remaining blueberries with the blueberry jam. Top the cake with the preparation and a few mint leaves.
---
website: www.5ingredients15minutes.com