It's strawberry season so you should make this easy dessert recipe –  Strawberry Meringue Roulade! Try also strawberry ripple almond cheesecake!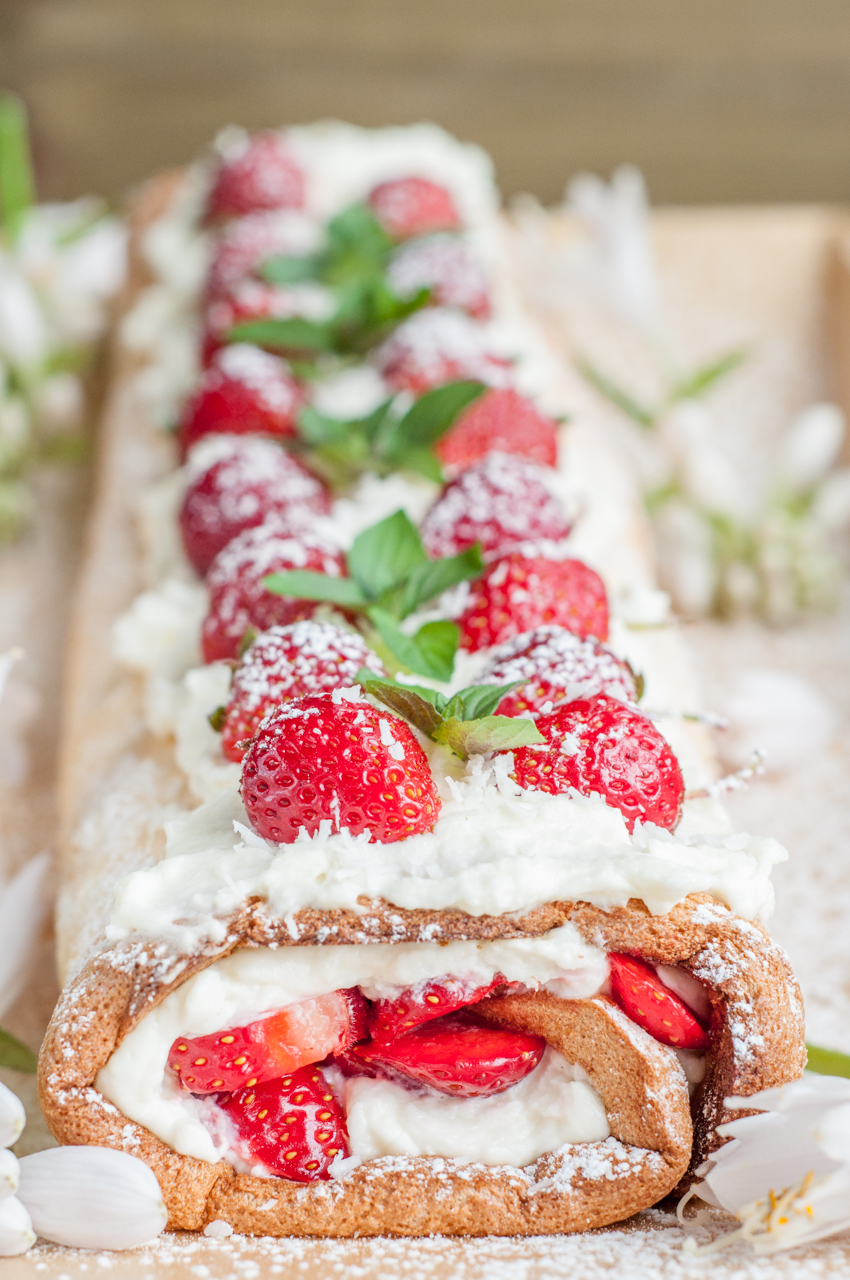 ---
Ingredients:
Cream Ingredients:
1 cup mascarpone
2 tbsp confectioners sugar + more for dusting
½ cup heavy cream
1 tbsp lemon zest
1 cup fresh strawberries, sliced
shredded coconut and mint (optional)
Meringue Ingredients:
4 egg whites, room temperature
¼ cup caster sugar
1 tsp vanilla extract
1 tbsp lemon juice
---
Instruction:
Preheat the oven to 350 F and place the oven rack in the middle.
To make the meringue beat the egg whites on high until they firm up, then gradually start adding the sugar in small amounts. Keep beating until stiff picks form and the meringue looks glossy.
Spread the meringue over the silicone mat or parchment paper and bake for 20 minutes. It should feel soft to the touch, but firm enough to hold its shape when rolled. Let the meringue cool down completely.
To make the cream filling, combine mascarpone cheese, confectioners sugar and lemon zest.
Mix by hand until everything is incorporated.
In a separate bowl whip up the heavy cream and gently fold it into the mascarpone mixture.
Lay a clean piece of parchment paper and turn the meringue upside down.
Peel off the silicone mat from the top and spread the cream evenly onto the meringue using a spatula.
Place sliced strawberries on top and gently fold the meringue roulade lifting the parchment paper and rolling it onto the serving tray.
Decorate the roulade with leftovers of cream, more strawberries, mint and shredded coconut.
---
website: www.gastrosenses.com