Easy Banoffee roll recipe – Mix, bake and whip up a frenzy with this show-stopping creation.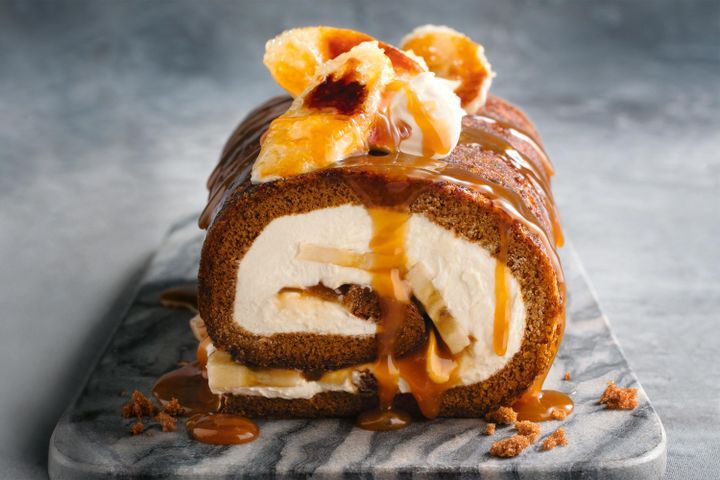 ---
Ingredients:
70g butter, at room temperature
120g (2/3 cup) dark brown sugar, lightly packed, plus 2 tbs extra
1 teaspoon vanilla bean paste
3 eggs, separated
75g (1/2 cup) plain flour, sifted
1 teaspoon bicarbonate of soda
2 tablespoons water, boiling
600ml thickened cream, whipped to firm peaks
3 large bananas
300g jar salted caramel dessert sauce
2-3 tablespoons caster sugar
---
Instruction:
Preheat the oven to 190C/170C fan forced. Grease a 3cm-deep, 24.5 x 37cm (base measurement) rectangular cake pan and line with baking paper.
Use electric beaters to beat the butter and sugar in a small bowl until pale and creamy. Add the vanilla bean paste and egg yolks and beat until the sugar almost dissolves. Transfer to a large bowl.
Use electric beaters to whisk the egg whites in a clean, dry bowl until soft peaks form. Use a large metal spoon to fold the flour into the butter mixture alternately with the egg whites until just combined. Combine the bicarb and water in a jug and fold into mixture until just smooth. Pour mixture into the prepared pan and gently spread to the edges. Bake for 15 minutes or until the surface springs back when lightly touched. 4
Place a piece of baking paper on a tea towel. Sprinkle with the extra brown sugar. Turn the warm cake onto the paper. Remove and discard the top sheet of paper.
Starting from the short side closest to you and using the paper as a guide, gently roll up the cake. Set aside for 2-3 minutes. Gently unroll the cake by about two-thirds. Set aside to cool completely.
Reserve 1/3 cup cream. Completely unroll the cooled cake and spread with remaining cream. Thinly slice 1 of the bananas and arrange over cream. Spoon over 1⁄2 cup of the caramel sauce. Carefully roll up the cake and transfer to a serving platter.
Line a baking tray with foil. Lightly grease. Cut the remaining bananas into 5mm-thick long diagonal slices. Place on the prepared tray. Sprinkle liberally with the caster sugar. Use a kitchen blowtorch to melt the sugar until it caramelises.
Microwave the remaining sauce in a heatproof bowl on High for 1 minute or until warmed. Allow bubbles to subside. Top cake with reserved cream and caramelised banana.
Drizzle with sauce and serve this banoffee roll.
---
website: www.taste.com.au