Bake this wonderful double chocolate cake that's glazed with raspberries and topped with whipping cream – perfect dessert to treat your guests. Try also raspberry crescent rolls recipe.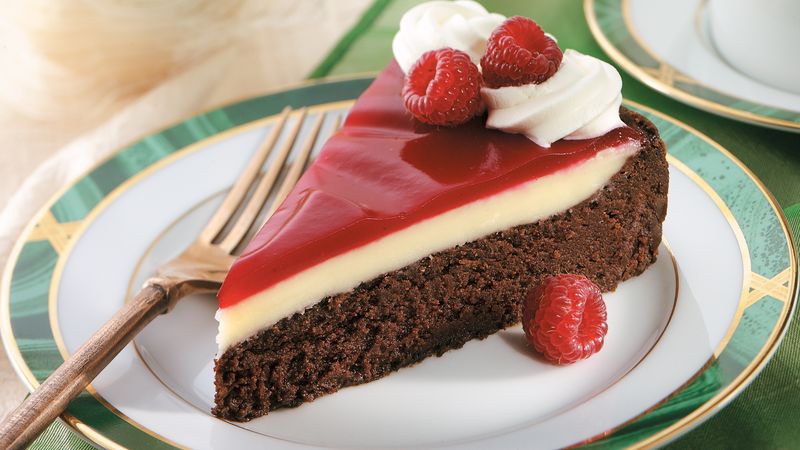 ---
Ingredients:
Cake
16 oz semisweet baking chocolate
1 cup unsalted butter
6 eggs
White Chocolate Ganache
8 oz white chocolate baking bars, cut into small pieces
1/2 cup whipping cream
1 tablespoon unsalted butter
Raspberry Glaze
1 package (10 oz) frozen raspberries in syrup, thawed
1 tablespoon cornstarch
Topping
1 cup whipping cream
1 cup fresh raspberries
---
Instruction:
Heat oven to 400°F. Spray 9-inch springform pan with cooking spray. In medium saucepan, melt semisweet chocolate and 1 cup butter over medium-low heat, stirring constantly until smooth. Cool 35 minutes or until completely cooled.
Beat eggs in small bowl with electric mixer on high speed 5 minutes or until light and lemon colored. Fold cooled chocolate into eggs until well blended. Pour into pan.
Bake 15 minutes. Dessert will be soft in center. Cool completely in pan on cooling rack, about 1 hour 30 minutes. Refrigerate 1 hour 30 minutes or until firm.
Meanwhile, place white chocolate baking bars in small bowl. In small saucepan, bring 1/2 cup whipping cream and 1 tablespoon butter just to a boil. Pour over chocolate; stir until smooth. Cool completely, about 5 minutes. Refrigerate 1 hour or until chilled.
Place strainer over small saucepan; pour raspberries into strainer. Press mixture with back of spoon through strainer to remove seeds; discard seeds. Stir in cornstarch. Cook over medium heat until mixture boils and thickens, stirring constantly. Cool 30 minutes or until completely cooled.
Spread white chocolate ganache on top of cooled dessert. Spread raspberry glaze over ganache. Refrigerate 30 minutes; serve or refrigerate until serving time.
To serve, let raspberry chocolate cake stand at room temperature for 1 hour. In medium bowl, beat 1 cup whipping cream until stiff peaks form. Spoon whipped cream into pastry bag with large star tip. Pipe cream onto edge of dessert. Garnish with fresh raspberries.
---
Recipe Notes
White chocolate isn't true chocolate; it contains no chocolate liquor, the essence of chocolate flavor and color. Instead, white chocolate gets its mellow flavor from vanilla. White chocolate does contain cocoa butter, which is derived from cocoa beans. Choose high quality white chocolate, that which lists cocoa butter as the first or second ingredient.
---
website: www.bettycrocker.com