The base of the Strawberry Ripple Almond Cheesecake is made up of raw almonds, coconut, oats, and dates. The dates act like a glue and hold everything together. Plus, they're my all time favorite healthy baking staple, I love dates.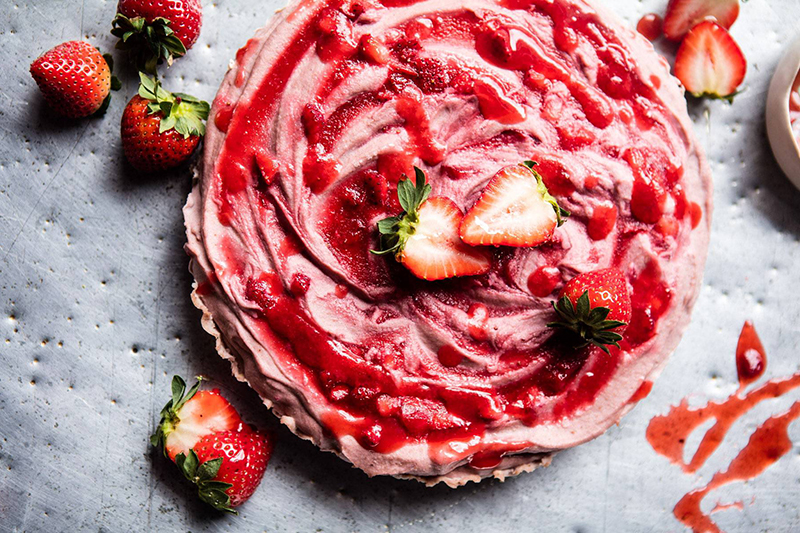 This cake is great not only for the fact that it's healthy, high in protein, full of antioxidants and fiber, and vegan…but it's also easy to make and can be made completely in advance. Feel free to swap the strawberries with any other berry. Raspberries, blueberries or even stone fruits would be great to use here too!
---
Ingredients:
Crust:
1/2

 

cup

 

raw almonds

1/2

 

cup

 

unsweetened coconut

1/4

 

cup

 

old fashioned oats

1

 

cup

 

packed dates, pitted

pinch of flaky sea salt
Strawberry Cheesecake Filling:
4 1/2

 

cups

 

roughly chopped strawberries

1/2

 

cup

 

honey

 

(agave or maple if vegan)

juice of 1 lemon

2

 

cups

 

raw blanched almonds, soaked overnight in water

1

 

cup

 Almond milk

1/2

 

cup

 

coconut oil

1

 

teaspoon

 

vanilla extract

fresh strawberries for serving
---



Instruction:
To make the crust. In the bowl of a food processor, combine the raw almonds, coconut, oats, dates, and pinch of salt. Pulse until finely chopped and easily holds together when squeezed in your hand. Press the base mixture into a 8-inch spring form pan. Place the pan in the freezer.
To make the filling. In a medium pot, bring the strawberries, honey, and lemon juice to a boil. Boil 8-10 minutes or until the mixture has thickened and becomes jam-like. Stir in a pinch of salt. Let cool and then puree in a blender.
Drain the almonds and add them to the bowl of your food processor with the Almond milk, coconut oil, and vanilla. Pulse until smooth and creamy. Add 3/4 of the strawberry puree and pulse until combined. Remove the base layer from the freezer and add the almond cream in an even layer. Using a knife, swirl in the remaining strawberry puree. Cover and place in the freezer until firm, 1-2 hours. Remove 10 minutes before serving.
Enjoy strawberry ripple almond cheesecake and rate our recipe!
---