Strawberry Kiwi Tartlets – kiwi flavor poured inside a tangy lemon shortbread crust and topped with slices of perfectly ripe strawberry, it makes a refreshing and visually stunning dessert. If you love strawberry see this cheesecake recipe.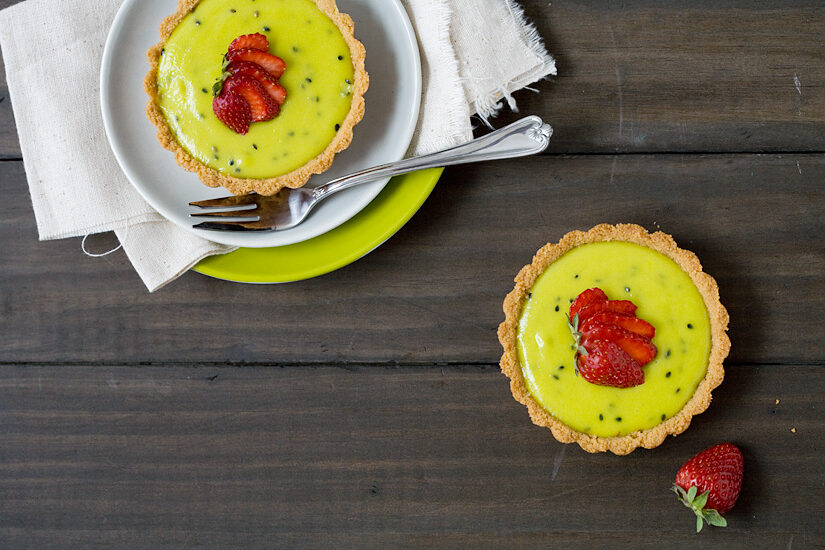 ---
Ingredients:
For Crust:
7 ounces lemon shortbread cookies or vanilla cookies
6 tablespoons unsalted butter, melted
2 tablespoons sugar
For Kiwi Curd:
3/4 cup kiwi puree (from 3-4 kiwis)
1/2 cup sugar
1 1/2 tablespoons meyer lemon juice
3 eggs
3 egg yolks
6 tablespoons unsalted butter, cut into cubes
green food coloring, optional
strawberries, for garnish
---
Preheat oven to 375ºF.
In a food processor, pulse cookies until very finely ground. You should have about 1 1/2 cups of crumbs. Add melted butter and sugar and pulse until evenly moistened. Press crumb mixture into six small (3 3/4-inch) tartlet pans or one 9-inch tart pan. Bake for 4 to 5 minutes or until lightly golden. If crust has puffed, carefully press bottom back into place using a spoon or flat-bottomed glass. Cool completely.
For kiwi curd, strain kiwi puree through a fine mesh sieve. Reserve seeds and set aside. Combine puree with sugar and lemon juice in a medium heavy-bottomed saucepan. Beat eggs together with egg yolks, then add to kiwi mixture. Add butter and stir over medium-low heat until butter is melted and curd thickens, about 10 to 15 minutes. Do not let it boil. Add one drop of green food coloring, if desired for a more vibrant color. Press curd through a fine mesh sieve to remove any lumps or cooked egg bits. If desired, add kiwi seeds back to curd, stirring until evenly distributed.
Divided curd among prepared crusts; refrigerate until set, at least 1 to 2 hours. Top with strawberry slices.