Raspberry kefir overnight oats are an easy to prepare breakfast that's full of fibre, probiotic and whole grain goodness. They take about five minutes to prepare and are perfect for busy weeks when you need to meal prep quickly.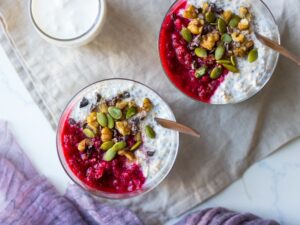 This recipe is a simple blend of whole milk kefir, almond milk, rolled oats, chia and a dash of sweetener, all topped off with a generous handful of raspberries. You can use fresh or frozen, but to be honest about 90% of the time I use frozen to make this recipe. They're cheaper, last for ages and mean that I can make this overnight oats recipe even if raspberries aren't in season. Frozen raspberries also defrost down into a nice little compote, which I love to stir through the oats.
Of course, you can get fancy and add some extra things into these kefir overnight oats. I like to pop in a sprinkle of cinnamon and some sultanas. And of course, some crunchy toppings!
---
Ingredients:
1/2

 

cup

 

rolled oats

 

*use certified gluten free if these are available where you live

1

 

tbsp

 

chia seeds

1/2

 

cup

 

milk kefir

 

– I used Table of Plenty natural kefir

1/2

 

cup

 

almond milk

 

or any other milk of choice

1-2

 

tsp

 

honey

 

or maple syrup, or any other sweetener of choice

1/4

 

tsp

 

ground cinnamon

1

 

tbsp

 

sultanas

 

– OPTIONAL

1/2

 

cup

 

raspberries

 

– fresh or frozen
---



Instruction:
Combine all of the ingredients except for the raspberries. Scoop into a jar or other lidded container. Top the mixture with the raspberries – if they're frozen they will have time to defrost.
Pop the lid on your container and place in the fridge for at least four hours, or preferably overnight. When ready, simply stick a spoon in and enjoy. You can also add extra crunchy toppings or a dollop of yoghurt or nut butter as well.
---
Recipe Notes
gluten free: oats are not available in all countries, as there are different regulations around what is gluten free. If you are in Australia you will find it very difficult to find gluten free oats, as technically you can't call oats "gluten free" in Australia. It's a very confusing topic and I will pop a blog post up about this eventually! For now I will say – if you are medically diagnosed coeliac, please be certain you can tolerate oats before you eat them.
on a lighter note: my favourite additional toppings for these raspberry kefir overnight oats are a tablespoon of peanut butter and a sprinkle of pumpkin seeds!
---
website: nourisheveryday.com