Thanks to a few tablespoons of orange juice, this springtime Daffodil cake is the perfect balance between citrusy and sweet.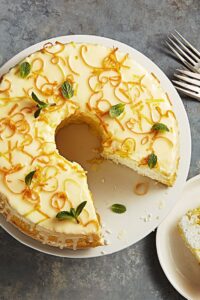 ---
Ingredients:
For the Cake:
1 c.

cake flour

1 1/2 c.

plus 2 tbsp. granulated sugar

1 1/4 c.

egg whites (from about 10 large eggs), room temperature

1/4 tsp.

salt

1 1/2 tsp.

cream of tartar

1/2 tsp.

vanilla extract

4

large egg yolks, room temperature

1 tsp.

finely grated orange zest plus more for garnish

2 tbsp.

orange juice
For the Glaze:
1 1/2 c.

confectioners' sugar, sifted

3 tbsp.

orange juice

1 tbsp.

butter, melted
---



Instruction:
Prepare Cake: Preheat oven to 375°F. Sift flour with 1/2 cup sugar.
In large bowl, with mixer at high speed, beat egg whites with salt, cream of tartar and vanilla until soft peaks form. With mixer at same speed, beat in 1 cup sugar, sprinkling 1⁄4 cup at a time over egg whites. Beat until sugar is just blended.
With rubber spatula, gently fold in flour mixture by fourths until fully incorporated.
In another bowl, with mixer at high speed, beat egg yolks with orange zest and juice and remaining 2 tablespoons sugar until thickened and pale. Fold in one-third of white batter.
In ungreased 4-inch-deep 10-inch tube pan, alternate yellow and white batters to give marbleized effect, with white batter on top. Bake 35 to 40 minutes or until cake tester inserted in center comes out clean.
To cool cake, invert in tube pan and let hang until cooled completely, resting pan on center tube or placing tube over funnel or neck of bottle. (Cake will shrink if removed from pan while warm.)
To remove cooled cake, use thin bladed knife or spatula to loosen cake all around side and tube. Invert cake onto wire rack and lift off pan.
Prepare Glaze: In small bowl, mix confectioners' sugar, orange juice and butter until smooth. Brush all over cooled cake and let sit until somewhat set. Garnish daffodil cake with orange zest.