Creamy ice cream filled with all the flavors of apple pie! Brown sugar, cinnamon, tender apples, and crushed oatmeal cookies make this ice cream the easiest and tastiest way to enjoy apple pie!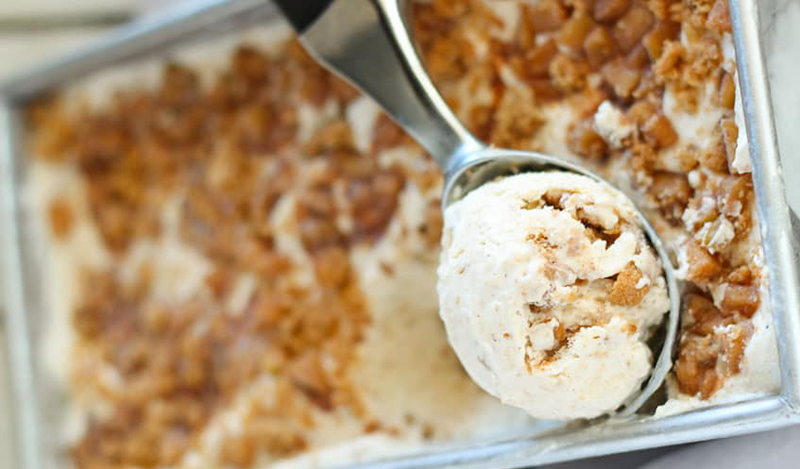 ---
Ingredients:
1/4

 

cup

 

brown sugar

 

packed

1

 

tablespoon

 

unsalted butter

1

 

teaspoon

 

apple pie spice or cinnamon

2

 

medium sized Granny Smith apples

 

peeled and cut into 1/4 inch pieces
Ice cream base:
One

 

14 ounce

 

can sweetened condensed milk

1/2

 

teaspoon

 

apple pie spice or cinnamon

1/2

 

teaspoon

 

pure vanilla extract

2

 

cups

 

cold heavy cream

3/4

 

cup

 

crushed crunchy oatmeal cookies

 

see note for other options
---



Instruction:
Prepare compote:
Place brown sugar and butter in a medium saucepan. Stir until the butter is melted and the brown sugar and butter are combined. Add apples and pie spice, stir to coat the apples. Simmer, partially covered, for 10-15 minutes, until the apples are tender, stirring occasionally.
Transfer to a bowl and refrigerate until chilled. Once chilled, prepare ice cream base.
Ice cream:
In a large bowl, combine sweetened condensed milk, pie spice, and vanilla extract.
Puree half the apple compote (it won't be completely smooth; that's OK), and stir the pureed compote into the condensed milk mixture. Set aside.
Using a hand mixer or stand mixer, whip the heavy cream until stiff, billowy peaks form. Gently fold half the whipped cream into the condensed milk, then fold in the other half. Stir in most of the cookie crumbs, reserving a tablespoon or two for the top.
Pour half the ice cream base into a 2 quart container (I used a loaf pan). Top with half the remaining apple compote. Pour in the last half of the ice cream base and top with remaining apple compote and reserved cookie crumbs.
Cover and freeze until firm, at least 6 hours.
---
Recipe Notes:
Put crushed oatmeal cookies into the ice cream to add texture and serve as the "crust" component to the apple pie. Instead of oatmeal cookies, you could use crushed cinnamon graham crackers, snickerdoodles, shortbread cookies, or speculoos/Biscoff cookies. Make sure the cookies are crisp; a soft cookie will get too mushy once mixed into the ice cream.
---