Sharing a healthier take on the classic Twix bar with my Homemade Vegan Twix Bars. These Twix bars are easy to make, have no processed sugars, and are even gluten-free!
Layered with dark chocolate, toasted coconut "shortbread", maple syrup-based "caramel", additional dark chocolate, and finished with flaky sea salt. Every last bite is sweet, nutty, hinted with caramel-like flavors, extra chocolatey, and so DELICIOUS. 
---
Ingredients:
1

 

cup

 

finely shredded unsweetened coconut

1/2

 

cup

 

almond flour/meal

1/4

 

cup

 

melted coconut oil

2

 

tablespoons

 

honey or maple syrup

1 1/2

 

teaspoons

 

vanilla extract

1/2

 

teaspoon

 

flaky sea salt, plus more for topping

3/4

 

cup

 

real maple syrup

1/2

 

cup

 

canned full fat coconut milk, using only the coconut cream, no water

2

 

tablespoons

 

almond or cashew butter

12

 

ounces

 

dark chocolate, chopped

1

 

tablespoon

 

coconut oil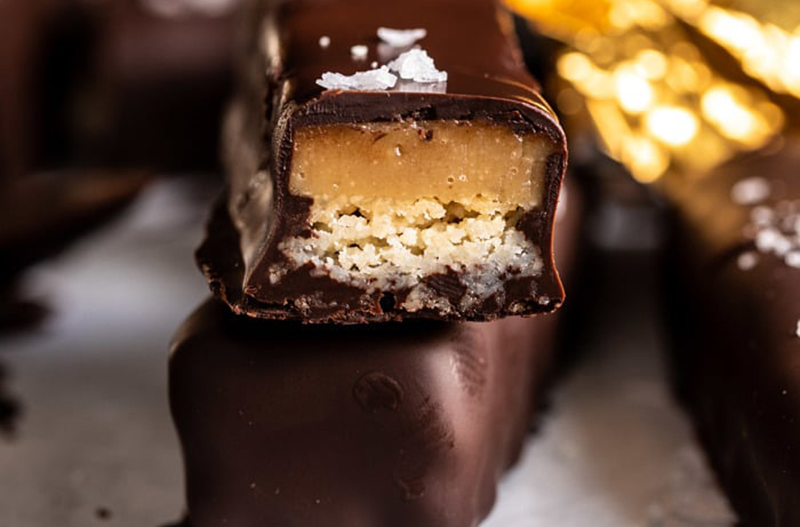 ---



Instruction:
Preheat the oven to 350 degrees F. Line an 8×8 inch square baking dish with parchment paper.
To make the coconut layer. In a medium bowl, combine the shredded coconut, almond flour, coconut oil, honey, 1/2 teaspoon vanilla, and salt until combined. Press the mixture into the prepared baking dish. Transfer to the oven and bake 10-12 minutes, until lightly golden and toasted. Remove from the oven and let cool.
In a medium pot, combine the maple syrup and coconut cream and bring to a boil over high heat. Boil 12-15 minutes or until thickened to a caramel like sauce. Remove from the heat and stir in the almond butter and the remaining 1 teaspoon vanilla. Let the mix cool slightly, then pour over the coconut base layer. Transfer to the freezer, freeze 30 minutes, until firm.
Melt the chocolate and coconut oil in the microwave until melted and smooth. Let cool 10 minutes.
Cut bars into 16 bars. Cover/dip each bar in chocolate, return to the freezer to let the chocolate set up, about 10 minutes. Keep stored in the fridge for up to 2 weeks.
---