Truly nothing better on a Friday than these no bake Vegan Gooey Chocolate Coconut Caramel Bars. Layered in order with chocolate, nutty coconut, sweet creamy "caramel", and topped with another layer of chocolate.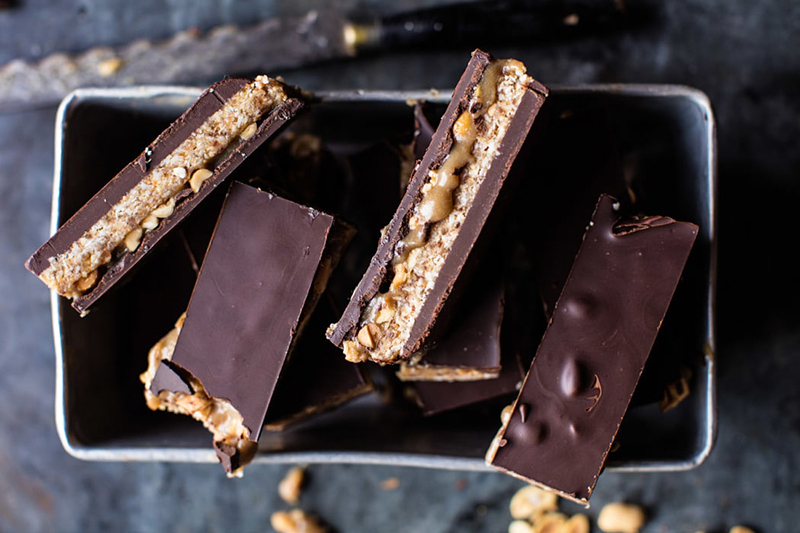 ---
Ingredients:
12

 

ounces

 

dark chocolate, chopped

 

(make sure it's vegan if that is important to you)

4

 

heaping tablespoons creamy peanut butter or almond butter

2

 

cups

 

unsweetened flaked coconut

1

 

cup

 

roasted cashews

1

 

cup

 

pitted Medjool dates

1

 

(14-ounce) can full-fat coconut milk

1/2

 

cup

 

light brown sugar

 

(optional, see note)

1/4

 

cup

 

honey

1

 

tablespoon

 

coconut oil

1

 

teaspoon

 

pure vanilla extract

3/4

 

cup

 

roasted peanuts
---



Instruction:
Line a 9 x 13-inch baking dish with parchment paper.
Melt together 6 ounces of the chocolate and 2 rounded tablespoons of the peanut butter in the microwave until melted and smooth. Pour into the prepared baking dish and spread into an even layer. Place in the freezer for 15 minutes to harden.
Meanwhile, in a food processor, pulse the coconut flakes and cashews until finely ground. Add the dates and pulse until the mixture comes together and forms a ball.
When the chocolate–peanut butter mixture has hardened, remove the pan from the freezer and, using your hands, press the coconut mixture into an even layer on top of the chocolate. Return the pan to the fridge to chill while you make the third layer.
In a medium saucepan, combine the coconut milk, sugar, and honey. Bring the mixture to a boil over medium-high heat. Cook for 10 minutes, or until the caramel has thickened. Remove the pan from the heat and let cool for 5 minutes, then stir in the coconut oil, vanilla, and peanuts. Remove the pan from the fridge and pour the caramel mixture over the bars, spreading it in an even layer. Return the pan to fridge to chill for at least 1 hour.
 About 10 minutes before you remove the bars from the fridge, melt together the remaining 6 ounces chocolate and remaining 2 tablespoons peanut butter in the microwave until melted and smooth. Let cool for 5 minutes, then pour the chocolate over the caramel layer, spreading it into one even layer. Return the bars to the fridge until well chilled, at least 1 hour.
Cut the coconut caramel bars into squares before serving. Store in the fridge for up to 1 week.
---
Recipe Notes
*If you want to omit the brown sugar and make these completely free of added sugars, you can definitely do so. I find these plenty sweet enough minus the brown sugar, but adjust according to your taste and sweetness preference.
---