This Butterscotch Pie is perfect for any holiday meal! Buttery, rich and loaded with butterscotch flavor, it's a great no-bake option for hectic days. Try also this hand pies with blueberry filling.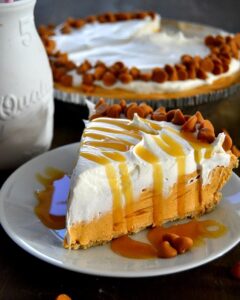 ---
Ingredients:
1 graham cracker pie crust
2 boxes (1 oz each) butterscotch instant pudding mix (if you don't want to use the sugar free/fat free pudding mix (the small box) you can substitute with the 3.4-3.9 oz box. If you're using the larger sized box, use only ONE box)
2 cups milk
1 (8 oz) tub Cool Whip, thawed
¼ cup butterscotch sundae sauce
½ cup butterscotch chips
---



Instruction:
In a large bowl, whisk together the two boxes of butterscotch pudding mix and the 2 cups of milk until blended. Let stand for five minutes, then add HALF of the Cool Whip and fold into the pudding mixture until combined. Pour into the prepared pie crust.
Gently spread the remaining Cool Whip over the top of the pie and garnish the trim with the butterscotch chips. Refrigerate for at least 1 hour before serving.
Just before serving, drizzle with butterscotch sundae sauce. Store leftovers in the fridge.