These Nutella Ferrero Rocher Cupcakes are insanely chocolaty, super fudgy, moist and delicious and SO simple! Elevating a boxed cake mix sends these semi-homemade cupcakes over the top!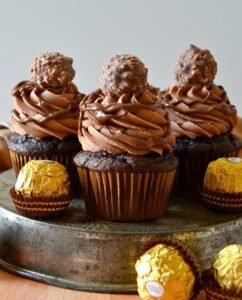 ---
Ingredients:
For the Cupcakes:
One box chocolate fudge or Devil's food cake mix
3 large eggs
½ cup vegetable or canola oil
1 & ¼ cups whole milk or water
½ cup full-fat sour cream
One 3.4-ounce box instant dry chocolate pudding mix (just the powdered mix)
For Nutella Frosting & Topping:
½ cup (1 stick) unsalted butter, softened
½ cup plus ⅓ cup Nutella, divided
1 teaspoon vanilla extract
3 & ½ – 4 cups sugar
¼ cup heavy cream
18-20 Ferrero Rocher candies, unwrapped
---



Instruction:
Preheat oven to 350 degrees F. Line 2 muffin tins with about 18-20 paper liners.
In a large bowl, beat together the cake mix, eggs, oil, milk, sour cream and dry pudding powder with an electric mixer until combined and creamy, about 2 minutes. Portion the batter evenly among the muffin cups, filling about ⅔ – ¾ths of the way full. Depending on your cookie scoop and even the brand of cake mix, you should get anywhere from 18-20 cupcakes approximately.
Bake for 16-18 minutes or until a toothpick inserted near the center of the cupcake comes out clean or with moist, but not wet, crumbs. Cool the cupcakes completely.
For the frosting: In the bowl of a stand mixer, cream the butter, ½ cup of the Nutella and vanilla extract with the paddle attachment until fluffy and smooth, about 1 minute. Gradually add in the confectioners' sugar, alternating with the heavy cream until frosting is light and fluffy.
Pipe or spread the frosting onto the cooled cupcakes. For frosting as high as the ones you see in my photos, you may want to double the frosting recipe. Garnish with a Ferrero Rocher candy.
Lastly, add the remaining Nutella to a small bowl and microwave for about 10 seconds or until slightly softer and more runny. Add the Nutella to a piping bag or Ziploc and drizzle the Nutella over the cupcakes.