This Raspberry Ripple Ice Cream Pie with toasted almond crumble is the perfect make-ahead summer dessert. It features a shortcut version of lemon ice cream, raspberry ripple, and toasted almond crust and crumble on top. If you like raspberries, we also have gorgeous French dessert recipe with sweet apricots and raspberries, or raspberry crescent rolls.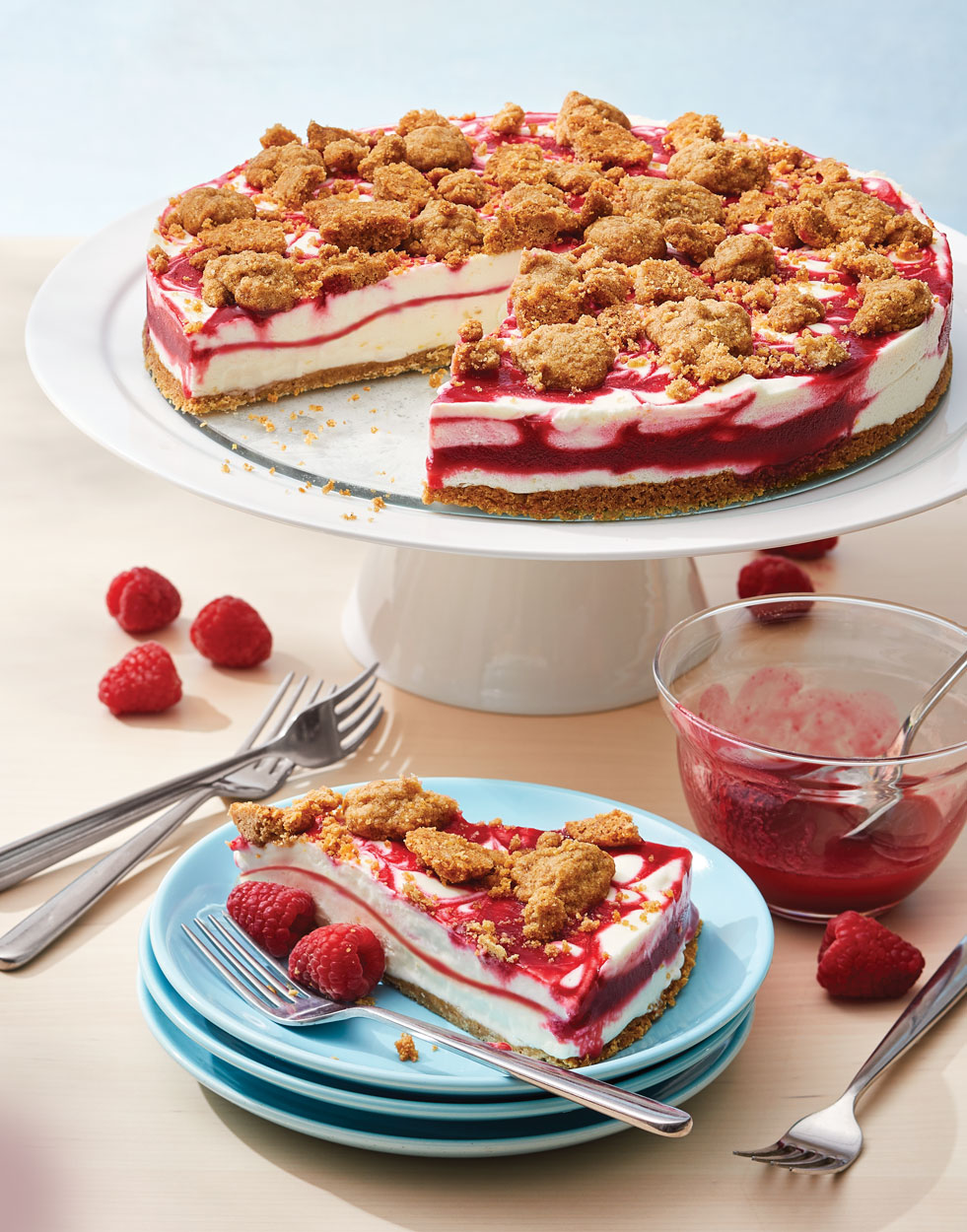 ---
Ingredients:
For the Crust and Crumble:
1

 

cup

 

almond flour

½

 

cup

 

all-purpose flour

½

 

cup

 

packed dark brown sugar

1

 

tsp.

 

sea salt

½

 

tsp.

 

ground cinnamon

¼

 

tsp.

 

freshly grated nutmeg

½

 

cup

 

unsalted butter (8 Tbsp.), diced and room temperature
For the Raspberry Ripple:
1

 

bag

 frozen or fresh raspberries (10 oz.)

¼

 

cup

 

granulated sugar

1

 

piece

 

lemon peel (2-inch)

1

 

Tbsp.

 

fresh lemon juice
For the Ice Cream:
½

 

cup

 

heavy whipping cream

1

 

pkg.

 

cream cheese (8 oz.), room temperature

1

 

can

 

sweetened condensed milk (14 oz.)

½

 

cup

 

fresh lemon juice

2

 

tsp.

 

grated lemon zest

¼

 

tsp.

 

sea salt

½

 

tsp.

 

flake salt
---
Instruction:
Preheat oven to 350°. Line a baking sheet with parchment. Coat the bottom of a 9-inch springform pan with nonstick spray; place on baking sheet.
For the crust and crumble: toast almond flour in a saucepan over medium heat, stirring often, until golden brown, 3–5 minutes. Transfer almond flour to a bowl; add all-purpose flour, brown sugar, sea salt, cinnamon, and nutmeg; let cool about 10 minutes. Mix in butter (your hands are generally the best tool for this job) until everything is just combined. Give the mixture a gentle squeeze; if it holds together it is ready to bake.
Press half the dough into bottom of prepared springform pan to create a thin layer of crust, ⅛- to ¼-inch thick. Crumble the rest of the dough onto the other half of the baking sheet, making sure to have some large clumps. Bake crust and crumbles until deep toffee brown, 15–18 minutes. Remove baking sheet from oven and let crust and crumble cool to room temperature.
For the raspberry ripple: heat raspberries, sugar, and lemon peel in a saucepan over low. Smash the berries a bit with the back of a wooden spoon to release their juices. Simmer, stirring often, until ripple thickens, 7–8 minutes. (Ripple should coat the back of a spoon, and not immediately drizzle when you run your finger across the spoon.) Stir in lemon juice and strain raspberry ripple through a fine-mesh strainer set over a bowl, pressing to get the juice and thickened purée; let cool to room temperature.
For the ice cream: whip cream in the bowl of a stand mixer fitted with the whisk attachment on high speed until soft peaks form; transfer to a separate bowl. Using the same mixer bowl and attachment, add cream cheese and whip until smooth, 3 minutes. Add condensed milk, lemon juice, zest, and sea salt. Mix on low speed until incorporated, then increase speed to medium and beat until whipped and smooth, 1 minute. Fold whipped cream into cream cheese mixture.
Pour half the ice cream mixture onto the crust. Drizzle one-quarter of the raspberry ripple over ice cream, then top with remaining ice cream, and another one-quarter of the raspberry ripple. Drag a toothpick through the sauce, creating swirls in the ice cream. Reserve remaining sauce for serving.
Freeze pie 20 minutes before scattering the crumble over the top. Finish pie with flake salt and return pie to freezer to set fully, 3 hours or overnight.
---
website: www.cuisineathome.com