With a skillet cookie that's a little like a novelty cake, this oversized Red Velvet Cookie makes the perfect dessert. Baking the cookie in a skillet makes this just right for sharing. Any way you slice it, if you're into chocolate, this red velvet treat is for you. Also try red velvet cinnamon rolls recipe.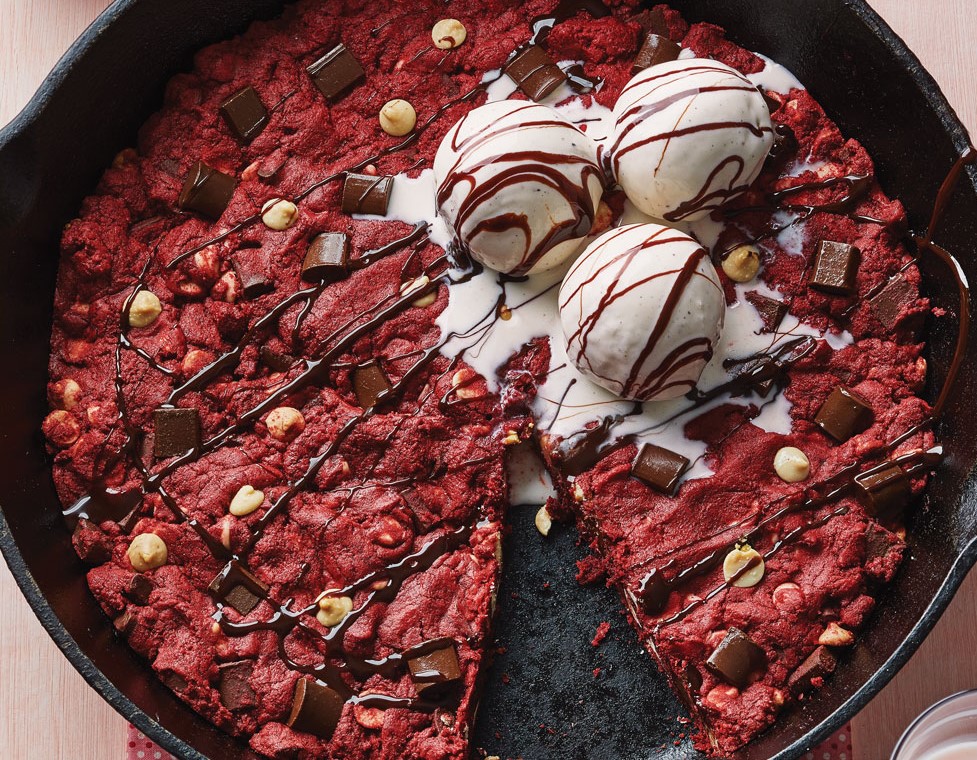 ---
Ingredients:
Whisk:
1 ½ 

cups

 

all-purpose flour

¼ 

cup

 

unsweetened cocoa powder

½ 

tsp.

 

baking soda

¼ 

tsp.

 

table salt
Cream:
1 

stick

 

unsalted butter (8 Tbsp.), softened

½ 

cup

 

each granulated sugar and packed light brown sugar

1 

egg

2 

tsp.

 

liquid red food color

1 

tsp.

 

distilled white vinegar

1 

cup

 

each semisweet chocolate chunks and white chocolate chips

Vanilla ice cream
Chocolate syrup
---
Instruction:
Preheat oven to 350°. Coat a 10-inch cast-iron skillet with nonstick spray.
Whisk together flour, cocoa, baking soda, and salt in a bowl.
Cream butter, granulated sugar, and brown sugar in a separate bowl with a hand mixer on medium speed until light and fluffy,  5 minutes. Beat in egg, food color, and vinegar until combined, then beat in flour mixture just until combined.
Stir in chocolate chunks and white chocolate chips. Press dough into prepared skillet.
Bake red velvet cookie until set 18–22 minutes; serve warm with ice cream and chocolate syrup.
---
website: www.cuisineathome.com