4-Ingredient Chocolate Truffles are the perfect way to satisfy your chocolate craving. Roll them in a variety of toppings and make your own box of chocolates! If you want more easy recipes, this no bake chocolate tart is for you.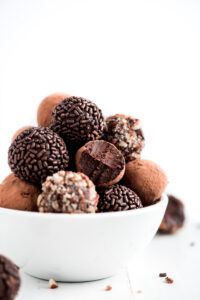 ---
Ingredients:
1/2

 

cup

 

heavy whipping cream

8 ounces

 

dark chocolate (60%)

, 

chopped

1/4

 

teaspoon

 

vanilla extract

cocoa powder

chocolate sprinkles

toasted pecans

, 

chopped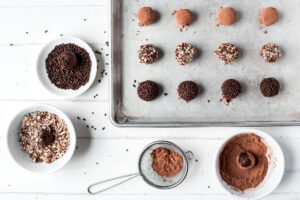 ---



Instruction:
Heat cream in the microwave or pot until it starts to steam.
Place chocolate in a heat proof bowl and pour the cream over the top. Cover and let sit for 3 minutes. Whisk until smooth. Stir in the vanilla and let cool at room temperature for about 15 minutes and then place in fridge for about an hour until it's cool and has firmed up.
Place cocoa powder, chocolate sprinkles, and toasted pecans each in separate bowls and set aside.
Using a trigger scoop or a spoon, scoop into 2 teaspoons portions of chocolate and place on wax paper or parchment. Roll the chocolate in your hands to create a ball and then roll in either cocoa powder, chocolate sprinkles, or toasted pecans. Set back on the paper.
Store chocolate truffles for up to 2 weeks in the fridge. Serve at room temperature.