Chocolate Molten Lava Cake is the ultimate chocolate lover's dessert! This small rich chocolate cake has a warm gooey center that makes you go weak at the the knees. It's so easy to make and comes together in less than 20 minutes!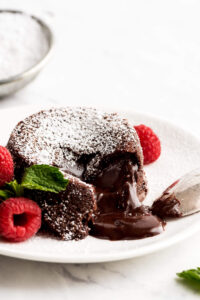 ---
Ingredients:
1/2

 

cup

 

dark chocolate (about 3 ounces)

, 

chopped (or use Ghirardelli baking chips)

2 1/2

 

tablespoons

 

butter

1

 

whole egg

, 

room temperature*

1

 

egg yolk

, 

room temperature*

3

 

tablespoons

 

sugar

1/4

 

teaspoon

 

vanilla

1/8

 

teaspoon

 

salt

2 1/2

 

tablespoons

 

flour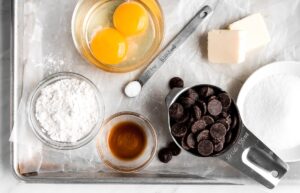 ---



Instruction:
Preheat oven to 400 degrees F. Grease the inside bottom and sides of two 5-ounce ramekins with butter or shortening. Then place about 1 teaspoon sugar in each and shake the sugar around so it sticks to the butter on the bottom and sides of the ramekins. Shake out any remaining sugar.
Place chocolate chips and butter together in a bowl and melt in the microwave for 30 seconds at 50% power. Stir and heat an additional 15 seconds if needed. Stir until smooth.
In a medium mixing bowl, beat the whole egg, yolk, sugar, vanilla, and salt together until pale in color. Mix in the melted chocolate/butter. Add the flour and mix until just combined.
Pour batter into the ramekins and then place in the oven directly on the middle rack and bake for 11-12 minutes until top is set but cake still jiggles in the middle (you don't want to cook the lava!).
Let the cake sit for 1-2 minute. Run a sharp knife along the sides of the cake to ensure it comes out perfectly. Invert the cake onto a plate by placing a plate upside down on top of the cake. With hot pads on, flip the cake so that the plate is on the bottom and cake is upside down on top. Leave it for 20 seconds, give the bottom of the ramekin a couple of pats and then lift it straight up.
Dust the chocolate lava cake with powdered sugar and garnish with berries and ice cream.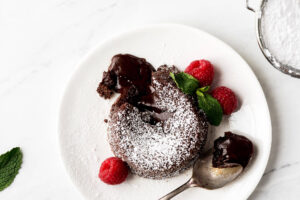 ---
Recipe Notes
Get eggs to room temperature quickly by placing them in a bowl of warm water for 5 minutes (while still in the shell).