Banana Berry Baked French Toast is a delicious and easy way to get a healthy breakfast together for one or a crowd! A family friendly dish that will appeal to all tastebuds.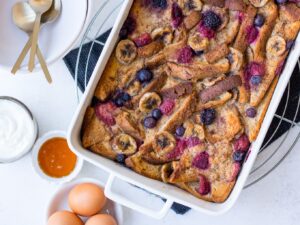 ---
Ingredients:
8

 

slices

 

wholemeal bread

 

– I used gluten free wholemeal bread

2

 

cups

 

milk

6

 

eggs

3

 

tbsp

 

honey or maple syrup

2

 

tsp

 

vanilla extract

1

 

tsp

 

cinnamon

 

plus extra for dusting

2

 

cups

 

frozen berries

 

any variety or use mixed berries

1-2

 

bananas

butter or olive oil

 

for greasing baking dish

Greek yogurt

 

to serve

honey or maple syrup

 

to serve
---



Instruction:
This recipe is best started the day/night before, to allow for the bread to completely soak up the egg mixture.
Lightly grease a large baking dish (pictured in a rectangular baking dish measuring approximately 32cm x 22.5cm). Scatter 1 cup of the frozen berries across the base of the dish.
Slice the bread into triangular quarters and lay them evenly across the dish, overlapping them slightly.
Slice the bananas into rounds and tuck the banana slices in between the bread. Scatter the remaining cup of berries over the dish.
Whisk together the eggs, milk, honey/maple syrup, vanilla and 1 teaspoon of cinnamon. Pour the mixture evenly over the baking dish. Very gently, press the bread into the liquid to help it soak in.
Cover the dish and place in the fridge, and ideally let it sit overnight. (You can speed up the soaking process a little by more aggressively pressing the bread down into the egg mixture. Try to let the mixture soak for 2 hours at least).
Preheat the oven to 180 C. When the dish is ready, sprinkle over a little extra cinnamon and bake for approximately 35 minutes, or until the bread on top is starting to brown and crisp up at the edges.
Serve French Toast warm with a dollop of Greek yoghurt and a drizzle of honey/maple syrup, if desired.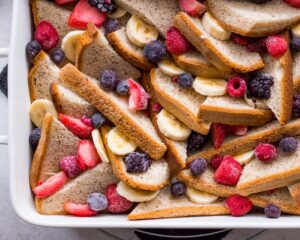 ---
Recipe Notes
*For a gluten free breakfast, use gluten free bread.
*For a dairy free breakfast, use olive oil to grease the baking dish, and use a non-dairy milk like almond, rice or coconut milk. Serve with coconut yoghurt instead of Greek yoghurt.
*Leftovers can be stored in the fridge for up to three days. Reheat in the microwave or oven.
---
website: nourisheveryday.com