Castagnole Sweet Dough Balls are a delicious Italian sweet, soft on the inside and crunchy on the outside, the traditional recipe during Carnival time. See this italian sfogliatelle pastry recipe also!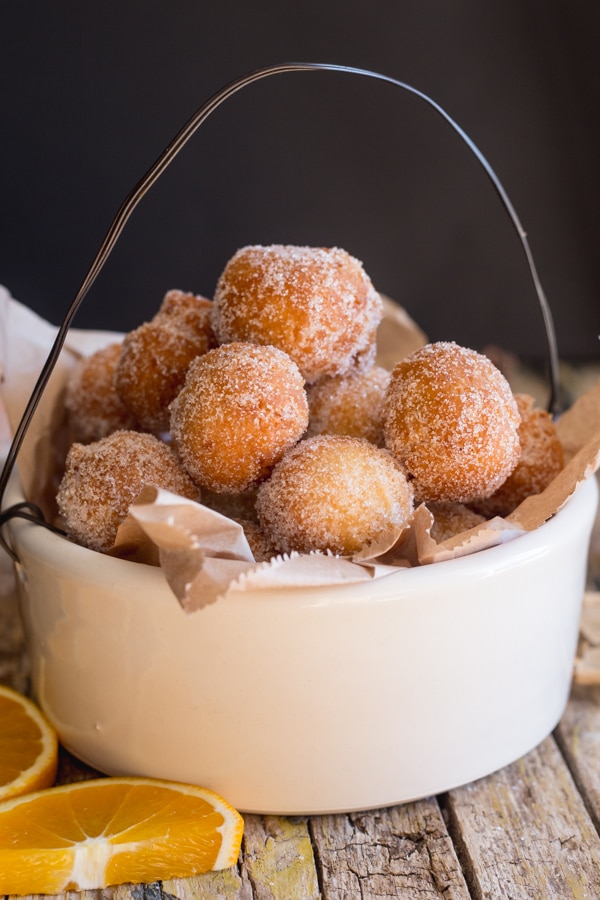 ---
Ingredients:
Castagnole Dough
1 1/2

 

cups

 

flour

 

(205 grams)

1

 

teaspoon

 

baking powder

1/4

 

cup

 

sugar

 

(55 grams)

2

 

eggs

1

 

zest

 

orange

1/2

 

teaspoon

 

vanilla

3

 

tablespoons

 

butter (softened)

 

(40 grams)

1

 

pinch of salt

1

 

teaspoon

 

Gran Marnier or Orange Juice
Extras
vegetable oil for frying

granulated sugar for rolling
---
Instruction:
In a large bowl whisk together flour, baking powder.  Make a well in the middle and add the sugar, eggs, zest, vanilla, softened butter,  salt and liqueur (or Orange Juice).
Mix together with a fork until almost combined then move to a flat surface (lightly floured if needed) and knead into a smooth soft dough. Wrap in plastic and let rest 30 minutes at room temperature.
Cut a piece of dough at a time, and roll the dough to form a 1 inch (2 cm) thick rope. Cut the rope in pieces the size of large (I cut mine very large) cherries and roll between your hands to form balls.
Meanwhile, start heating the oil (in a large fryer or deep pot halfway full), make sure the temperature remains between 335 – 345F (170-175C), (too high and they cook on the outside but not in the middle / too low and they remain soggy). Once oil is at the correct temperature, fry a few Castagnole at a time, until they are golden brown and nicely puffed. Approximately 2-3 minutes, but turn often so they brown on all sides. Drain on paper towels, when cool enough to touch, but still quite warm, roll in granulated sugar. Serve immediately.
Enjoy and rate the recipe!
---
website: www.sunnysidecircus.com