Buttermilk Vanilla Waffles, a flavor that truly shines, and a hint of tangy buttermilk to boot. They're airy and crisp thanks to the leavening power of steam, not whipped eggs, so the recipe comes together fast. See mini mint chocolate cream pies recipe.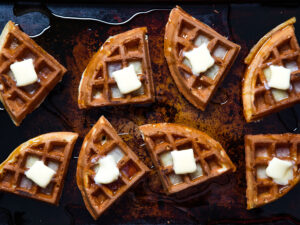 ---
Ingredients:
6 1/2 ounces all-purpose flour (1 1/3 cup; 185g)
1 1/2 ounces powdered sugar (1/4 cup plus 2 tablespoons; 45g)
1/2 teaspoon (2g) Diamond Crystal kosher salt; for table salt, use half as much by volume or use the same weight
1/2 teaspoon (3g) baking soda
1/2 teaspoon (2g) baking powder
1 vanilla bean, split and scraped (see note)
14 ounces cultured lowfat buttermilk (1 3/4 cup; 395g) (see note)
1 1/2 ounces unsalted butter, melted (3 tablespoons; 40g)
2 large egg whites (about 2 1/2 ounces; 70g)
1 teaspoon (5ml) vanilla extract
Maple syrup, for serving
---



Instruction:
For the Batter: In a large bowl, combine flour, powdered sugar, salt, baking soda, baking powder, and the scrapings of one large vanilla bean, mixing by hand until the seeds are well dispersed. Add buttermilk, melted butter, egg whites, and vanilla extract and whisk until smooth.
For the Waffles: Set waffle iron to medium and preheat until the indicator is ready. For an 8-inch square machine, scrape in roughly half the batter. For a 7-inch Belgian machine, scrape in about one-third. Close lid and cook until waffle is golden brown but still steaming, 4 1/2 to 6 minutes depending on the depth and heat of your machine.
Serve vanilla waffles immediately, with copious amounts of maple syrup, and griddle remaining batter as before.
---