This dreamy Peanut Butter Banana Ice Cream is naturally sweet with just bananas, peanut butter, vanilla, and cinnamon. See more ice cream recipes.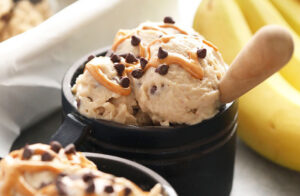 ---
Ingredients:
3 large, ripe bananas
3 tablespoons natural peanut butter
1/4 teaspoon vanilla extract
a super teeny-tiny dash of cinnamon
sea salt to taste
roasted peanuts for topping
---



Instruction:
Cut the bananas into small chunks and freeze until solid, at least 1-2 hours. Transfer the bananas to a very strong blender and blend until smooth and creamy. This will take a few minutes and may require periodic pauses and adjustments. It's very loud and intense since the bananas are frozen, similar to adding ice cubes to a blender. Within a few minutes, you should be seeing a thick, creamy ice-creamy mixture in the blender.
Add the peanut butter, vanilla extract, cinnamon, sea salt, and anything else you might like in there. Pulse the blender quickly to stir the ingredients all together and when everything is mixed, serve immediately. Top with additional peanut butter and crushed roasted peanuts.
Enjoy peanut butter banana ice cream and rate the recipe!
---