These gluten-free, paleo soufflé pancakes are super fluffed up version of the classic brunch comfort food. Serve with maple syrup or honey, coconut cream or yogurt and berries.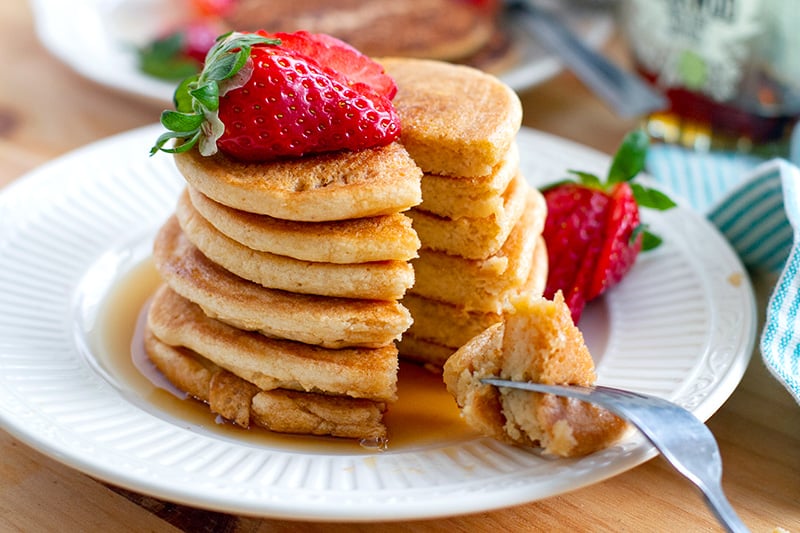 They are much thicker than regular pancakes, sometimes almost 2 inches, but once you bite into them, they are soft and fluffy with a texture somewhere between a pancake and a soufflé. The flavor of the pancakes is a little bit eggier than regular type but it's barely noticeable once you add the syrup and berries on top. I mean, they are so delicious that you probably won't even think about it.
---
Ingredients:
2 egg yolks
1 cup almond milk or another dairy-free milk
1/2 tablespoon maple syrup
1/2 cup almond meal or flour
1/2 cup cassava flour (tapioca flour can also be used)
1 heaped teaspoon baking powder (gluten-free)
Whipped egg whites:
3 egg whites
A pinch of salt
1 teaspoon granulated stevia sugar alternative
---



Instruction:
Separate the egg yolks from the whites. Add two egg yolks to a large mixing bowl and the three egg whites to another large, clean and dry bowl.
Add the almond milk to the egg yolks along with a little maple syrup. Whisk together until frothy. Add the almond meal, cassava flour and baking powder and stir through, then whisk into thick, smooth batter. Set aside.
Using an electric whisk or a standing mixer, beat the egg whites with a tiny pinch of salt for 1-2 minutes until firm peaks. Sprinkle in a teaspoon of stevia sugar (can be omitted) and beat for 10-20 more seconds until stiff.
Add a third of the egg white meringue to the yolk batter and whisk through gently. Then add two more thirds (one at a time) and fold through with a spatula until there are no more lumps or white streaks.
To cook the pancakes, preheat a large, non-stick frying pan over medium heat. Once hot, brush with a little butter, ghee or coconut oil or spray with oil. Using 1/2 measuring cup, scoop some of the batter and add three small pancake dollops to the pan. Then add a little more batter to each dollop, and then a little more. I am doing this gradually so that the pancake batter doesn't spread too much when it hits the pan. Check the heat and make sure it's on medium (I had it on 6 on the dial from 1 to 9). Cook for about 5-6 minutes on the bottom, until the sides firm up and you start to see some steam coming off the pancakes. You can cover the pan with a lid for a few minutes to speed up the process.
Using a spatula, quickly turn the pancakes over but do this gently so they don't squash too much when flipped. Cook for 3 minutes on the other side, until golden brown.
Remove from the pan and serve as quickly as possible. The pancakes will rise while cooking but will collapse a bit when removed from the heat. Don't worry! They will still be super fluffy on the inside. Repeat with the rest of the batter. Note, you can do 4 pancakes at a time if your frying or griddle allows.
Serve soufflé pancakes with a drizzle of maple syrup or honey, coconut yoghurt or cream and berries.
---
Recipe Notes:
Refrigerated the eggs before using as colder egg whites give better meringue results.
Cassava flour can be subbed with tapioca flour or other gluten-free flour.
For a tree nut-free version, swap 1/2 cup of almond meal with 1/4 cup coconut flour.
For lower-carb version, swap 1/2 cup cassava flour for 1/4 cup coconut flour.
---