The light green of the matcha in the panna cotta definitely makes these tartlets showstoppers. They are absolutely beautiful!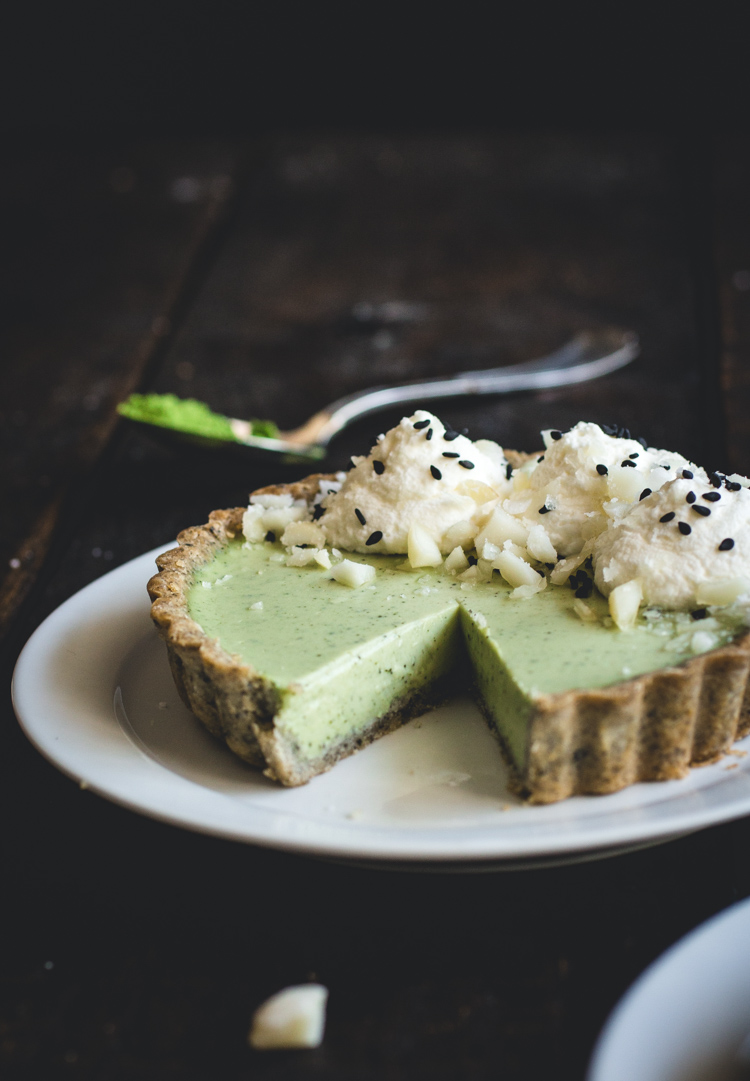 ---
Ingredients:
For the tart dough:
1 1/4 cup all-purpose flour
2/3 cup powdered sugar
1/2 teaspoon salt
1 egg yolk
2 1/2 tablespoons heavy cream
2 1/2 tablespoons ground black sesame seeds
1 teaspoon vanilla extract
1/2 cup butter (1 stick), cold and cut into cubes
For the matcha panna cotta:
1 cup coconut milk (full fat or light)
1 teaspoon gelatin
1/2 cup greek yogurt
2 teaspoons culinary-grade matcha
2 tablespoons honey
chopped macadamia nuts, for garnish
whole black sesame seeds, for garnish
unsweetened whipped cream, for garnish
---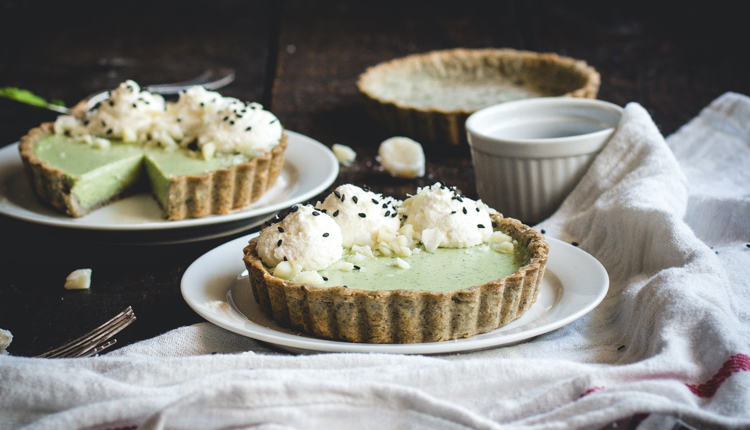 Instruction:
For the black sesame tartlets:
Place cubed butter in the freezer to chill while you prep the other ingredients.
Sift together flour, sugar, salt, and black sesame. Set aside.
Whisk together yolk, heavy cream, and vanilla. Set aside.
Add the cubed butter and dry ingredients to a food processor and pulse until the dough resembles a coarse meal. Like a pie dough, you do not want to over mix.
Add the cream mixture and pulse until dough just starts to come together, about 10 seconds.
Turn dough onto a piece of plastic wrap and form it into a disk. Wrap and chill for at least one hour.
While the dough is chilling, gently grease tartlet pans. Once chilled, unwrap the dough and turn onto a lightly floured surface. Divide into 5 sections (you may be able to get 6, I could only get 5). Roll each section to about 1/8 inch thick then press into tartlet pans and trim the edges. Prick all over with a fork. Place in freezer for another 30 minutes.
When ready to bake, preheat the oven to 375F.
Cover tartlet pans with foil (be sure to cover edges), and fill with pie weights or dry beans.
Bake for 25 minutes, rotating halfway through. Remove from oven and carefully remove foil and weights. Bake for another 5-8 minutes, until golden brown. Cool completely to room temperature before filling.
For the matcha panna cotta:
Add 1/4 cup of the coconut milk to a small saucepan and sprinkle the gelatin over the top. Let sit for 5 minutes.
Heat the mixture over medium-low heat until the gelatin is fully dissolved. Add in the honey and stir until well combined.
In a separate bowl, dissolve the matcha with about half of the warm coconut milk mixture, whisking until frothy and there are no chunks of tea. Strain the mixture back into the saucepan, then add the remaining coconut milk and greek yogurt.
Whisk until well combined then pour into the baked tart crusts. Place in the refrigerator to chill for at least 2 hours.
When ready to serve, garnish with whipped cream, chopped macadamia nuts and whole black sesame seeds.
---
website: butterlustblog.com