This sumptuous pistachio and lemon tart recipe is a delightfully summery dessert, with a novel twist coming from the addition of pine nuts. The lemon creme filling is much simpler to whip up than many other lemon tarts.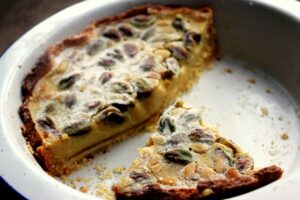 ---
Ingredients:
For the Pastry:
200g of plain flour

80g of icing sugar

100g of butter

1 

egg yolk

2 

lemons

, zested

1/4 tsp 

salt

1 tbsp of 

lemon juice
For the Lemon Filling:
50g of 

pistachio nut

s, shelled and roasted

25g of 

pine nuts

, toasted

200ml of whole milk

200ml of double cream

150g of caster sugar

4 

egg yolks

1 

lemon

, zested

1 tsp vanilla extract

30g of plain flour

1 pinch of 

salt
---



Instruction:
To make the sweet pastry, place the flour, sugar, lemon zest, salt and butter in a food processor and blitz until crumbly. Add the egg yolks and lemon juice and pulse just until dough holds together (add a tablespoon of water, if needed).
Turn the dough out onto a floured surface, bring it into a neat disk shape. Wrap tightly in plastic and chill in the freezer for 15–20 minutes.
Grease a 9–10 inch baking dish, with a removable base, or line with parchment paper. Once the dough is firm, roll it out until it is the thickness of a pound coin.
Gently place it in the baking tin and trim the excess pastry, making sure you leave an inch of overhang. Prick the pastry base with a fork – this prevents air pockets from creating bumps. Return the pastry to the freezer for 15 minutes to relax.
Preheat the oven to 180°C/gas mark 4.
Cover the pastry with greaseproof paper and fill the dish with baking beans. Put the pastry dish in the oven and blind bake (cook the pastry with the beans in) for 15 minutes.
Remove the baking beans and return the dish to the oven for a further 10–12 minutes, or until pastry is golden. Set the pastry to aside to cool.
Add the milk, cream, sugar, egg yolks, lemon zest, vanilla and salt to a large bowl. Add 1/3 of this mixture to another bowl with the flour and mix to combine. Return the flour mixture to the cream mixture and whisk until smooth.
Add the mixture to a saucepan over a medium heat. Bring to the boil, whisking continuously. Once it has boiled, remove from the heat and pour into the pastry case. Scatter over the pistachios and pine nuts.
Gently transfer to oven and bake just until filling puffs up, for 15–20 minutes depending on the oven. Leave the tart to cool on a rack to room temperature, then chill in the fridge until the filling sets – this should take about 3 hours.
Serve this pistachio and lemon tart cold. It's delicious with fresh berries.
---