This Glitzy Chocolate Ice Cream Trifle is the ultimate treat and perfect celebration dessert! It looks glamorous and tastes even better! If you're an ice cream lover, see more recipes here.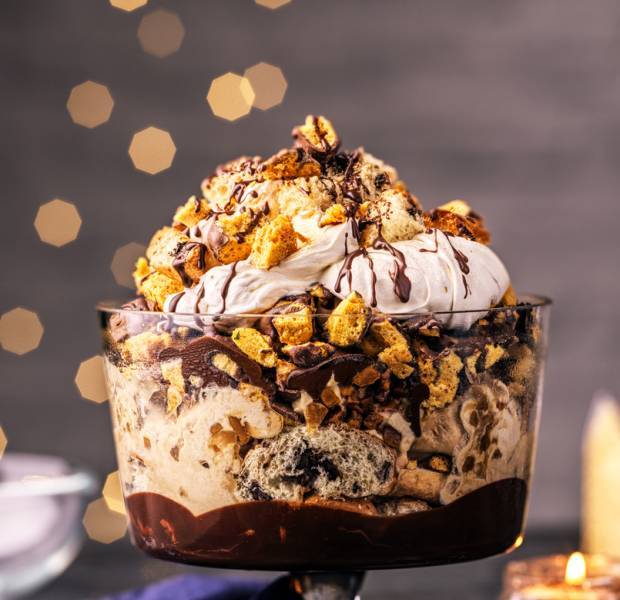 ---
Ingredients:
180g Bourneville Dark Chocolate, chopped
2 x 284ml Elmlea Double
4 Extra Special Belgian Chocolate Chunk Mini Brioche, chopped
900ml Asda Really Creamy Fudge Ice Cream
100g Extra Special Honeycomb with Belgian Milk Chocolate, broken into pieces
Cake Décor Gold Glitter Spray and cake sparklers (optional)
---
Instruction:
Preheat the grill on a medium setting.
To make the ganache, microwave the chocolate and 200ml of the Elmlea in a microwave-safe bowl in short bursts, stirring in between, until melted. Pour ½ into a trifle dish and swirl to coat the base.
Grill the brioche on a baking tray until golden. Set aside a few pieces and put the rest in the dish.
Top with the ice cream, most of the honeycomb and more ganache. Whip the rest of the Elmlea into soft peaks and spoon on the top with the rest of the brioche, honeycomb and ganache. Spritz with glitter and add a sparkler, if using.
If freezing for later, remove 10 mins before serving to soften.
Enjoy ice cream trifle and rate our recipe!
---
website: www.asdagoodliving.co.uk