Coconut Cacao Nib Ice Cream has only three ingredients: coconut milk, coconut cream and cacao nib! It's as easy as blending a few cans of coconut goodness in your blender and freezing in your ice cream mixer. No stove, no heat, nothing. If you like this one, try also chocolate coconut ice cream cookie dough recipe.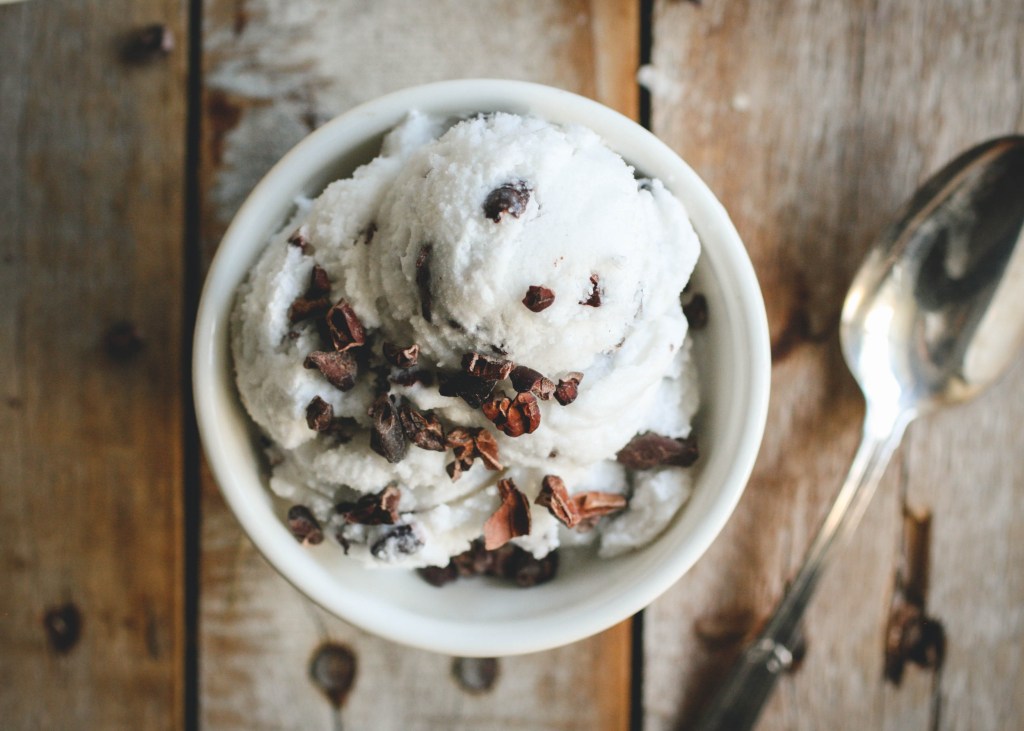 Cacao nibs are bits of dried, roasted and crushed cacao bean. They're the bean long before it's gotten to the candy stage. Chocolate in one of its purest forms. Cacao nibs are high in antioxidants, fiber, and one of the best dietary sources of magnesium. And if that's not enough to convince you, there's a whole slew of additional health benefits that they offer.
---
Ingredients:
2 cans full fat coconut milk
1 can cream of coconut
3/4 cup cacao nibs (or mini chocolate chips)
1/2 cup sweetened shredded coconut (optional)
---
Instruction:
Pour coconut milk and cream of coconut into a blender and blend until well combined. Place in refrigerator until chilled, at least 4 hours.
Freeze mixture in an ice cream maker, according to manufacturer instructions. When frozen fold in cacao nibs and coconut flakes (if desired). Transfer to a freezer safe container (I like to use a loaf pan), cover and freeze until firm.
---
Recipe Notes:
Use full fat coconut milk!! The light coconut milk is just the full fat with water to cut it and it costs the same amount — it's a waste of money so don't buy it!
If you have any rum (or other liquor but coconut + rum, duh) laying around, add 1 tsp to the mix before freezing. It will help keep the sorbet soft and scoopable in the freezer. I didn't add any to mine and regretted it.
When you stir in the chocolate of your choice, you can also add some shredded sweetened coconut for extra texture, if desired.
---
website: butterlustblog.com