Blackberries, dark chocolate and mint make a deliciously decadent combination in this stunning tart. Made with quark cheese for a light yet creamy filling and encased in crispy filo pastry, the bright purple pud is perfect for making the most of seasonal blackberries.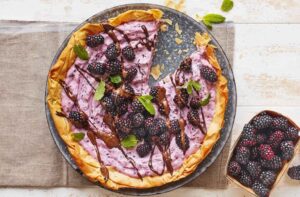 ---
Ingredients:
25g unsalted butter
20g clear honey
4 sheets ready-rolled filo pastry (from a 250g pack)
For the filling:
200g quark
1½ tbsp icing sugar, sieved
½ tsp ground cinnamon
350g blackberries
40g dark chocolate
mint, to serve
---



Instruction:
Preheat the oven to gas 6, 180°C, fan 160°C.
Melt the butter and honey in a saucepan over a low heat, swirling to combine. Brush a filo sheet with a quarter of the butter mixture. Place in a 28cm loose-bottomed tart tin, with the excess pastry hanging over the edge. Repeat with the other sheets, overlapping to cover the base and sides of the tin. Scrunch the excess into the sides for a round edge.
Prick the filo base with a fork, then bake on the middle shelf for 20 mins until crisp and just golden. Leave to cool. Gently remove from the tin and transfer to a serving plate.
Whip the quark to soft peaks. Fold in the icing sugar and cinnamon. Mash 200g of the blackberries into the quark mixture until combined. Spoon into the cooled tart case and smooth to the edges using the back of a spoon. Scatter over the remaining blackberries and gently press into the quark mixture.
Melt the chocolate in a heatproof bowl over a pan of simmering water, making sure the bowl doesn't touch the water. Stir until melted. Use a dessert spoon to drizzle over the chocolate; leave to set for 5 mins. Garnish blackberries tart with mint leaves to serve.
---
website: fitandhealthyrecipes.com