These bright and tart lemon bars have a luscious lemon layer and a buttery shortbread crust! Dust these easy lemon squares with powdered sugar for a pretty treat that will brighten any day!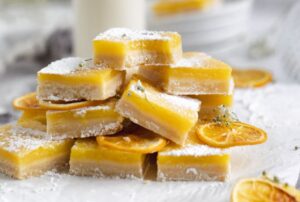 ---
Ingredients:
For the shortbread crust:
1/2 cup

 unsalted butter, room temperature

1/4 cup

 granulated sugar

1 cup

 all purpose flour

1/4 teaspoon

 salt
For the lemon layer:
1 cup

 granulated sugar

2 Tablespoon

s all purpose flour

1/2 cup

 lemon juice

3

 eggs, room temperature

1 Tablespoon

 lemon zest
---



Instruction:
Preheat the oven to 350°F and line an 8 x 8 pan with parchment paper on all sides. Set aside.
In a stand mixer with the paddle attachment, beat together the butter, sugar, flour, and salt until the mixture comes together. The mixture will be crumbly.
Press the shortbread in an even layer into the prepared pan. Use a fork to make a few holes in the crust. Blind bake the crust for 20 minutes.
While the crust bakes, make the lemon layer. Sift the sugar and flour together in a large bowl to get rid of any clumps.  Add the eggs, lemon juice, and lemon zest and whisk well until completely combined. The mixture will be thin.
Take the crust out of the oven and pour the lemon layer over the blind baked shortbread crust.
Lower the oven temperature to 325°F and bake for 20-25 more minutes or until the center no longer jiggles. Take the bars out of the oven and allow to cool completely.
Once the bars are completely cool, transfer to the fridge to set for 2 hours (or overnight) until ready to serve! Slice the lemon bars and serve cold with a dusting of powdered sugar!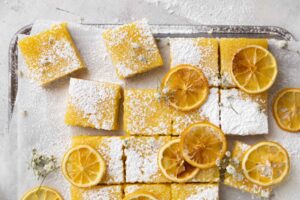 ---
Recipe Notes:
Blind bake the shortbread crust: The last thing you want is a soggy shortbread crust. Blind bake the curst for 20 minutes before pouring the lemon layer over it to ensure that it gets a head start to providing the perfect firm, yet tender base.
Sift the flour and sugar: The lemon layer is thickened with a little bit of flour and sweetened with sugar, but you want it to be suppppper super smooth. Sift the flour and sugar together before adding all the other ingredients to prevent and clumps.
Bake at a low temperature: Baking the lemon bars at a low temperature ensure an even, light bake and prevents any burning or browning of your squares, keeping them bright and sunshiney!
---