Truly the best puff pastry apple hand pies!  Made with easy store-bought puff pastry and a mixture of grated apples, these are baked quickly and produce a flaky buttery pie with a juicy cinnamon apple filling. Serve them warm and gooey with a scoop of ice cream on top or at room temperature with a sprinkle of sugar.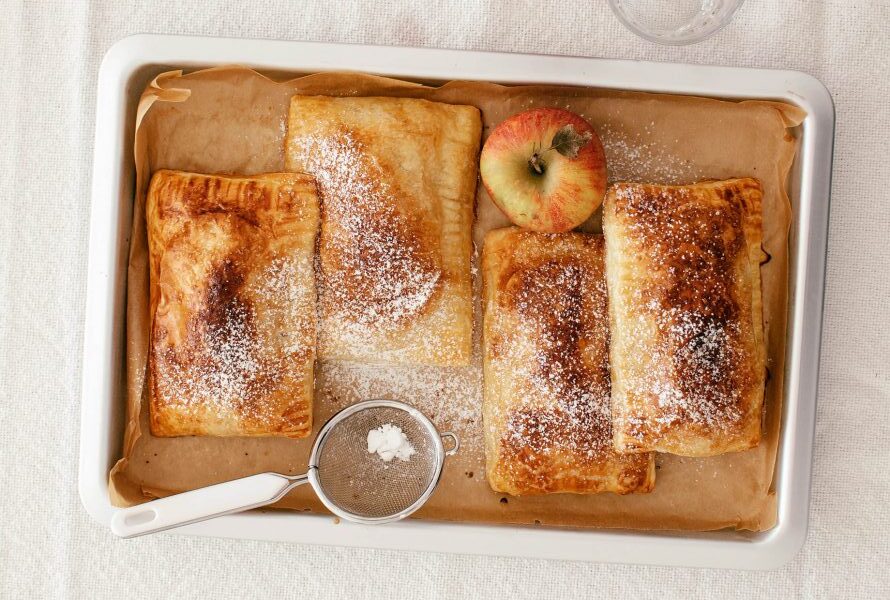 ---
Ingredients:
4 large apples (roughly 1.5 lbs or 700g)
2/3 cup (140g) granulated sugar
1 tablespoon cornstarch
zest of 1 organic lemon
1 teaspoon ground cinnamon
2 sheets puff pastry
1 egg, beaten
2 tablespoons sugar
---
Instruction:
Line 2 baking sheets with parchment paper and set aside. Preheat oven to 395°F (200°C).
Peel and coarsely grate the apples (I use a box grater). Transfer shredded apples to a sieve placed over a bowl, sprinkle with a tablespoon of sugar and let sit like that. Combine the rest of sugar, cornstarch, lemon zest and cinnamon in a medium bowl, set aside.
Flour your work surface, roll out your first sheet of puff pastry on top. Sprinkle it with flour, making sure you have no wet patches as this makes it easier to handle. Cut pastry into 4 equal strips then transfer them to the baking sheet. Brush the edges with egg.
Take the apples and fold them into the sugar mixture, mix until all apples are covered. Place about 2 spoonfuls of this onto the top portion of each pastry strip, leaving a border on each side. If any juices flood the pastry, that's okay.
Cover the top with the bottom part of the pastry, seal the edges with a fork, brush each pie with egg, sprinkle with some turbinado sugar. Place in the center of the oven and bake for about 15 minutes until the pastry is puffy and golden brown in color. Remove from oven and let cool to room temperature before serving.
As the first batch bakes, repeat the process with the second sheet of pastry. Keep uneaten pies covered either at room temperature or in the refrigerator. You can also freeze them for up to 2 months.
---
Recipe Notes
Pay attention to apple varieties you use. I like to use a mix of juicy sweet apples. My favorite varieties are Golden delicious and Gala apples. In contrast, Granny Smith apples aren't the best choice for this recipe, save those for a big pie.
I like to use fresh, already rolled sheets of puff pastry that I get at my store. You can use frozen too, but allow to completely thaw before baking. Puff pastry sheets come in different sizes so you can adjust the number of pies you want to make. The weight of 2 sheets is usually around 17-18 oz (500g). One sheet, on average, makes 4 hand pies.
---
website: www.sugarsalted.com